Venue:
A van outside performance works
Photograph: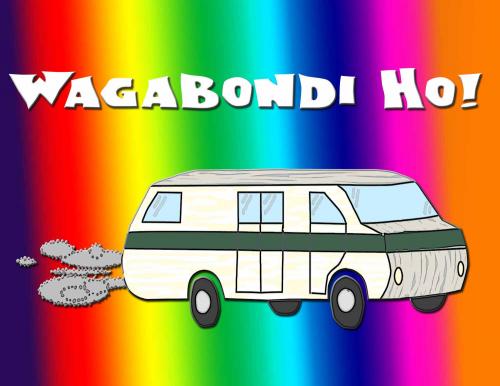 YOu never know what you're gonna get and neither do we!Every 30 minutes, a fresh 4 person audience decides where Wagabondi Ho! will take them. After being invited into our magical van for a cup of tea, audience members compete for the right to choose from a menu of true tales for presentation.
The fluid nature of Wagabondi Ho! makes it possible to see a new show again and again. A unique. site-specific  performance tailored to each audience of four people; its a new show every 30 minutes. Developed over the summer of 2009 the piece is directed by Eric Rhys Miller and performed by UITA Artistic Directors Daniel Martin and Dave Mott.
An ambitious theatrical challenge, Wagabondi Ho! blends traditional theatrical forms, site-specific performance, audience engagement, and the general randomness of life to weave an evolving Fringe tale.
Wagabondi Ho! is performed for 4 audience members in a green and white 1973 Dodge X-Plorer Van parked outside Performance Works - 1218 Cartwright Street on Granville island.
SHOW DATES AND TIMES:
Opening Night: Thursday September 10 @ 7 pm
Show Run: Wednesday - Sunday September 10 - 20 @ 5 pm - 10 pm
Every 30 Minutes Daily.
Read the PLANK Review.