Back to the '80: The Totally Awesome Musical: in the mood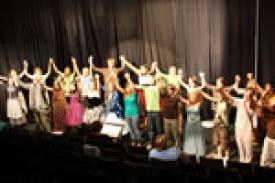 In the style of High School Musical, Back to the 80's is a same-old-same-old story about an average guy after a cool girl – the exception being that it's chockfull of pop culture references custom made to fit a playlist of hit songs from the 80's. If you were around for the side-ponytail, the oh-so-trendy aviator shades, the neon, you'll enjoy the nostalgia, probably sway in your seat and clap your hands.
If you weren't around quite yet, you'll probably go home in a ready-to-download frenzy. While the play relies on easy laughs and a campy plot, it is nothing short of an enjoyable watch… as long as you're in the mood for, well, a high school musical. Literally. As in high school students in a high school auditorium. After all, this is no Broadway, but man, those St. Michael's University School kids can rock.
For showtime information go here.
By Julia Dillon-Davis