The Power of Ignorance: ridiculing magic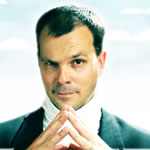 I always wondered what it would be like to just forget school, forget social pressures, and forget thinking for a while. And guess what? Just the other night, I learned that the positives of this lack of knowledge are taught perfectly in The Power of Ignorance by Vaguen. (Vaaagggguen. Vaguen. Vaaguen. Vagueeen.) Vaguen teaches us the Ig mantra ("duh"), hypnotism and skills in learning people's names. He teaches us that it is actually good to un-learn everything you know—because hey, what you don't know can't hurt you.
Chris Gibbs works his ridiculing magic, teaching his audiences that unleashing yourself from the power of thought will make life soo much better. The Power of Ignorance was one of the funniest shows I've seen in a long time. Jam-packed with little wrongly pronounced words, remarks about Intrepid Theatre budget cuts and edgy childhood referrals made this piece a workable comedy show. Heck, Gibbs even has the perfect look for his thick personality: a mix of Dr. Evil, Mr. Burns and Tweedle Dee . . . I mean Dum.
The Power of Ignorance was a tight show, but it did have a few pieces of material that were a bit random.  I mean, how can you go from the Ig Mantra to a toaster?  And while it may have been good for a few laughs, the final head-butt to the piece of wood just didn't fit.  We can only assume that Vaguen came to be this ignorance advocate through his twisted unloved childhood, which we heard too much about.  These little quirks aside, the show rolled smoothly along and it was hard to find a moment where the audience wasn't laughing.
Although it might be a little bit of a trek to get to UCW, it is definitely worth it to see this original and convincing comedic "self-help" production.
For showtime information go here.
By Alina Cerminara