The Accident : Supremely Serendipitous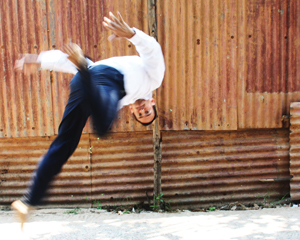 Victoria: Jonno Katz is no stranger to Victoria Fringe-goers.  This packed house further drove that point home - but not as much as this stellar performance. Katz has been able to strike an even balance between the physical and comedic before, and he does so again with tremendous results with The Accident. 
Delivering one of the most fluid performances I've seen, Katz tells the story of "abandoned" brothers Sebastian and Roy, the former of which is a tad insecure and the latter is as overbearing as they come.  Add to the mix Roy's beleaguered girlfriend Emily, and there's a relationship developed that is right out of a Soft Cell tune.  People pleasing is Sebastian's angle, and he sets out to show how much of an artist he can be with his vision of ironic conceptual art - and enlists Roy to help him.  I can say without a doubt that every "people" was pleased with this production.
With superb direction by directors Jeremy Roske and Irene Sposetti, Katz uses every square inch of the vast Metro Studio stage.  This venue can be a technical challenge, and kudos must go to Holly Vivian for the great work with the lighting and sound.  When a show of this nature can go off without a hitch in that department, it serves everyone well.
The Accident represents everything that is good about the Fringe experience.  It covers a broad spectrum of artistic sensibilities, leaves you wanting more and with just a hint of "what really happened"  at the end.  It's great storytelling on so many levels; The Accident is a serendipitous delight.
For showtime information go here.
 
By Mike Vardy