You Are Here: A Granville Island Audiodyssey - Beware the Rewind/Forward Button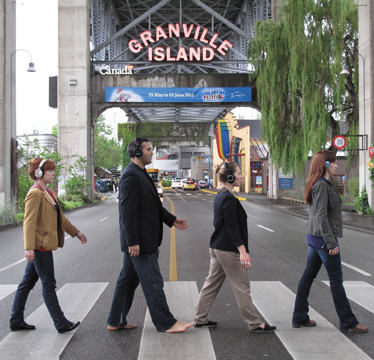 For this piece created by Liesl Lafferty, essentially a 45-minute walking tour of Granville Island (which you can take at any time between 5pm and 9pm Monday to Friday and between Noon and 9pm on weekends), you are handed a map, a small mp3 player and headphones and are guided by the new "voices inside your head" replacing the ones that are regularly in there.  It is an interesting concept, one that I think might have some appeal, though perhaps not as part of a Fringe Festival.
Having spent much time here, I did find it interesting to be introduced to a rich history of Granville Island of which I was not entirely aware.  If I was able to take anything from this piece it was from the history lesson, not the weak plot.
I started at 7pm and followed along as it turned to dusk.  The night I took this in was especially beautiful and I truly enjoyed the experience of wandering the Island but with a purpose and yet being in another world.  This being a 360 degree tour around the outside edge of the Island, the views are stunning.
Unfortunately, I did not make it to the end of the production.  About 30 minutes in, I seem to have accidentally hit the Rewind/Forward button on the mp3 player effectively returning me to the beginning of the piece.  You are told at the beginning that you may pause and restart as necessary if you need a break, perhaps to go to the washroom.  One thing this piece is really good at is describing where those washrooms are!  As far as I could tell, there was no way for me to rewind or forward the piece and as I was not interested in going back and starting the piece at the beginning, I had no choice but to abandon it.  As a reviewer, I had not paid for a ticket.  I suspect if I had, I would have been even less impressed.
By Maryth Gilroy