God is a Scottish Drag Queen - A Gleeful God!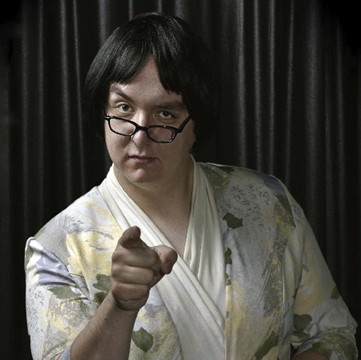 God is a Scottish Drag Queen. This is something that those of us with Scottish backgrounds have known for secretly for a long time.  The title might conjure up images of a young Allan Cummings in knee high boots and flashing eyes lashes.
  Mike Delamont's God is a middle aged slightly frumpy outspoken lass in a floral skirt and top - a middle class Dame Edna with the common sense outrage that is wired into the Scottish DNA. There is something very comforting in this idea.
For all intensive purposes, God is a 70 minute stand-up routine using the old testament as a source.  Along the way God riffs on briefly on the pope, racism, the difficulties of choosing a theme song (God suffers the same touring problems as the rest of us as gospel choirs are cost prohibitive), Edmonton,  Vancouver hipsters, punking Abraham (not once but twice!), a minor drinking problem during the time of the old testament and even makes the odd dick joke.  Some of the stereotypical humour is a bit hit and miss (although I did have to google "drunken german" when I got home), but for the most part I was laughing out loud.  There are some fun takes on biblical stories – the exodus from Eden treating Adam like that roommate who drank your last beer and God's utter shock at Abraham actually heading up the mountain to sacrifice Issac then gleefully planning the next prank. Additionally, I adore that the fact that  God uses photoshop.
I did find myself wishing there was more bite and that the routines would dig deeper into material.  Never quite going far enough and examining the issues brought up with more than a cursory glance. We only touched on the current Pope, when I suspect God (certainly this One) might have something to say about Benedict's handling of the pedophile scandals continue to rock the Vatican. There is also a slight feeling of preaching to the converted.  As God, herself says, you don't find many Mormons at a show called "God is a Scottish Drag Queen".  
On the whole, this a great performance of a gleeful God that likes to dance, enjoys monkeys and is genuinely puzzled by human behavior- a God that made me laugh for the better part of 70 minutes. And God saw and it was good.
By John Jack Paterson