Chlamydia Dell'arte: A Sex Ed Burlesque - Best Sex Ed class I have ever attended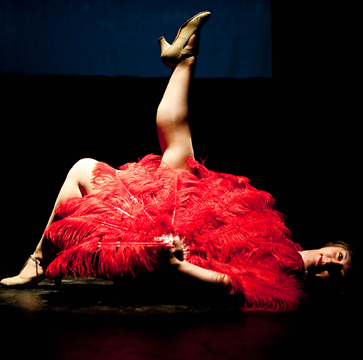 So, lets talk about SEX...um...ok....
Most people find the subject of sex difficult to discuss about because it makes them feel uncomfortable. Subjects like sexual orientation other than heterosexual, masturbation and other sub-categories also make people shy and have trouble to speak out loud.
This show takes that shyness away and explores it without bias in an informative and funny sex class structure.
Based in Philadelphia,theatre artists Gigi Naglak and Meghann Williams perform their show with cheerful confidence as they run through multiple skits which are listed in the program. These two women are very talented and with their wide variety of interesting props, costumes, video and puppetry they dispel the taboos on the topics. At the same time they are educating the audience with their comedic charms.
The show was done well, however there was a minor technical issue at the end. I'm sure the techs will have it smoothed out for the rest of the run.
What impressed me (besides the whole show) the most was even though the tech issue could have hindered the performers completely, these two ladies pulled through showing the audience that they came prepared and are professional artists. Kudos to you ladies..big thumbs up ;)
This is definitely an adult show, but when I think back to those teenage years It would have been great to have seen this instead of my P.E. Teacher talking about menstruation and how to put a condom on.
This show could potentially be toured through high schools teaching the birds and the bees in a funny and approachable way to young minds. Its also good refresher course for the rest of us as it gives us a chance to see that sex isn't taboo, but a natural thing we all love to do.
Chlamydia Dell'arte: A Sex Ed Burlesque runs all week at Performance Works. Check it out.
By Victor Terzis