Will Shakespeare's ImproMusical - Laugh Your Arse Off!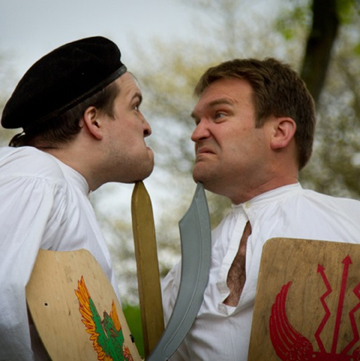 A family-friendly 10.45pm show is always a worry. But worry not The Histories for one reason or another is no more as in "not featured in this year's fringe festival" unbeknownst to the audience until we took our seats, in its place Will Shakespeare's Improv Musical.
Out of the wings did pop 5 players in the wake of the imaginary hand trumpet fanfare! It was clear from the outset these were professionals who played for a living and love doing it. There is nothing more comforting to an audience member than a company that comes on stage and says great you're here, you made it, you're in safe hands we know what we are doing, sit back relax enjoy and laugh you arse off. They did this without saying a word; they saved those for making us laugh our arses off.   
The format for this show is pick a Shakespeare play – for us we picked The Tempest – they will take the concepts and principles of that play, then pick a trade of Shakespeare's time we picked stonemason, they then create a 45 minute musical using the master musician and pianist they just happened to have on the edge of the stage, keyboard that also has tons of other musical instruments. DO NOT BE DETERRED BY THE FACT IT IS A MUSICAL! IT IS AWESOME!
This company is amazing and very very slick. As a performer there are few things harder than improv musicals, they do a great job. As this is an improv I can tell you my favourite bits as they may not feature in your evening's enjoyment. Whilst this is fairly family-friendly it is quite tongue-in-cheek and uses the Shakespearian language and lots of puns and plays on words to be super funny. Our story centred on a Duke and his kingdom with a supporting cast of Ever Chesty the very attractive maiden who believed that puppies could fly –later renamed Beauty, her sell-out mother, Dockle the lowly stone turner and a set of twins called Grimeo and Groomeo – played by the same man.
Highlights included a scene where a duologue between Grimeo and Groomeo – played by the same person- hatch a plan to win the fair maiden back off of the Duke who had bought her from the sellout mother, very hilarious. The scene where the Duke gets his statue made from stone which lasted over 3 scenes. I have to say that by far my favourite scenes were with the mother – played by Margret Nyfors. She was so funny and her play on words was exquisite. This isn't to say that the rest of the cast wasn't on point and flawless it's just she stood out.
I would love to see this show transfer to a regular spot downtown and help theatre to be accepted in a more casual setting. I could see this being a great hit. Please keep this playing.
If you want to go home with a spring in your step then come and see this show and bring a group of friends grab a couple of pre-show beers at the fringe bar and be prepared to laugh your socks off!
By Leah Bradford-Smart