Tragedy + Time Served = Comedy — Starting From Scratch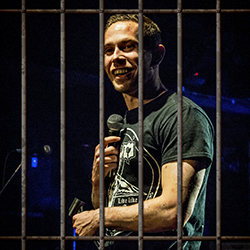 Grey with blackened edges. Mark Hughes' life reads like a modern reboot mashup of Lost Weekend, Reefer Madness, The River's Edge and Sleepers. Or maybe Breaking Bad with less horrific murder.
Tragedy + Time Served = Comedy was dramaturged by TJ Dawe, whom Hughes considers his mentor in getting this riveting monologue together. From the opening narration that describes the imperfect social construct that is the corrections and criminal justice system, to Hughes' willingness to work with the reaction of his audience, this is an experience that few will forget or fail to be moved by.
It's almost hard to believe that Tragedy + Time is real, and not a made-up story. I was moved continuously throughout the performance, going through a gamut of emotions: shock, sadness, humour, fear, admiration. The author has survived, and through telling his story, fights to help us all understand the roots of neglect, emotional damage, and systemic dysfunction. He offers us a greater understanding of the challenges we as a society face in what we value, and the insane ways that we respond to people who have been steered into harmful directions by the vagaries of life.
From a technical standpoint, the show flowed very well. Hughes' delivery was enhanced by the very rawness of the material, aided by subtleties in costuming and lighting. Hughes wears a three-piece-suit where vest and jacket are noticeably warmer than the trousers, and a stark crisp fully buttoned white shirt—small touches that reinforced for this viewer the overall concept that life is a deeply complex gradient of greys, with significantly more gradations than the popular notions our culture is content to imagine.
A must-see show, for both the sheer intensity of the story telling, and the hopefulness of this iconic example of the power of personal redemption.
By Bruce M. Campbell