She Has A Name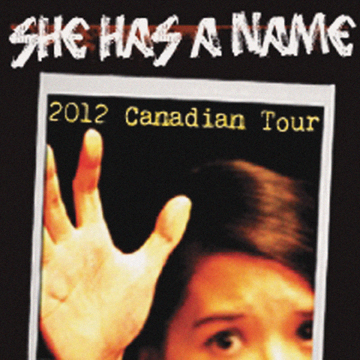 Brace yourself for 90 minutes of awareness raising and emotion wrenching from Burnt Thicket theatre. Because this drama addresses an issue that's a matter of life and death for hundreds of thousands of people worldwide we are asked to watch, to listen and to take action.
The audience is presented with a victim in terrible circumstances and in desperate need of rescue and an everyman who wants to do some good but is confronted with a system that perpetuates the criminal injustices of human trafficking. The tensions are dramatically wrought through the classical device of a greek chorus (The Voices) who may be angels but are certainly fierce angels at that. Their powerful compassion and equally forceful excoriations drives the moral narrative in a distressingly emotional but physically satisfying way. Credit should probably go to both the composer and sound designer Luke Ertman and choreographer Deanne Bertsch for this.
Set in Bangkok, the story follows Number 18 (Evelyn Chew), a girl trapped by human trafficking in sex slavery and Jason (Carl Kennedy), a young and earnest lawyer who's foregone the easy path to partnership in his father-in-law's firm in favour of working with an NGO in Thailand.  She's in constant danger and only more vulnerable if she chooses to testify for Jason.  He's pushed to his limits by his own convictions and the ugly world of violence in which he finds himself.  The real world circumstances are horrific and the consequences of a wrong step are dire.  
The cast is competent and focused.  The action is well choreographed and directed so that the audience is never distracted by extraneous activity and can maintain a connection as the dreadful story unfolds.  
The Fringe circuit is often dominated by comedies and more light hearted themes.  This production is not one of those shows.   As director Stephen Waldschmidt writes in the program:  "May I invite you to join me in letting the story have its way with you?  Wherever this play stirs you, to engage it?  To ask "why?" And to allow yourself to mull it  over and not rush to the next thing?  And then…"
Two talk back sessions are scheduled to follow the September 10th and 14th performances, both at St. James Anglican Church 302 East Cordova Street (directly kitty corner to Firehall Arts Centre).
1. Immediately following the 5:30 p.m. show on September 10 at 7:15 p.m.
Confirmed Panelists: Trisha Baptie, Founding Member and Community Engagement Coordinator, EVE,  Member of OCTIP;  Jassy Bindra, Human Trafficking Awareness Coordinator, Pacific Region, RCMP
2. Immediately following the 5:15 p.m. show on September 14 at 7 p.m.
Confirmed Panelists: Brian McConaghy, Founding Director of Ratanak International;
Naomi Krueger,  Deborah's Gate;  Mark Wollenberg, Director of Development and Mobilization,  IJM Canada (West)
For more information and links to follow up on the issue of human trafficking, click here.
 
By Lisa Barrett