The Sama Kutra - One Lucky Cantaloupe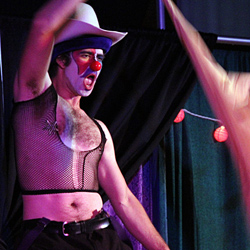 It's not often that I find myself sexually titillated by clowns.
The Sama Kutra was one such occasion. And as I go over this colourful and electric performance in my mind, it's clear that there was more motivating it than mere shock value. 
A needle swings ever more wildly between silly and sexy as a clowny couple (Sizzle played by Jacqueline Russell and Spark played by Jed Tomlinson) try to revive their crumbling relationship with the help of the eponymous magical erotic book. The makeup, the humorous acting, and the wild props all combine to create a layer of separation from the familiar. Underneath, we are treated to an exploration of sexuality and marriage that is far more candid than would otherwise be possible.
The characters speak in a kind of nonsense Spanglish with the occasional English phrase or allusion. This naturally shifts focus from dialogue to body language, which the actors project beautifully. The audience is pulled in by the performance, 'ohh'-ing and 'aww'-ing with every emotional beat.
Audience participation is essential to the energy of this show. The crowd becomes like a third character; early on, when the clowns are considering a 'divorso', they use audience members as legal counsel. There are no boundaries here: improvising with the audience advances the plot, minor flubs are absorbed into the flow, and the clowns react to the audience's reactions at every turn.
Light, sound, and stage all went off without a hitch. It was a great relief to see a show that gave me nothing to cringe at – the coordination was so good that one simply didn't notice it. Nothing less would be appropriate for this ambitious and demanding choreography. I especially loved the device of having the clowns carry out the scene changes as part of the performance, the effect on pacing was exquisite.
Spoiler alert!
One further note on audience participation: at one point, a very nervous audience member was brought on stage to receive something resembling a lap dance. She was adorned with a cowboy hat and wreath and invited to spank Spark's bottom. I thought Tomlinson and Russell were respectful of her boundaries, but I'd like to hear her opinion.
The naughtiness of the show just keeps escalating. By the end, the clown couple has done more experimenting than I have. Clever use of props make the performance teeter at the edge of pornography. Overall, charisma, creativity, and attention to craft bring things to a satisfying climax.
By Mattias Martens