Psychopomp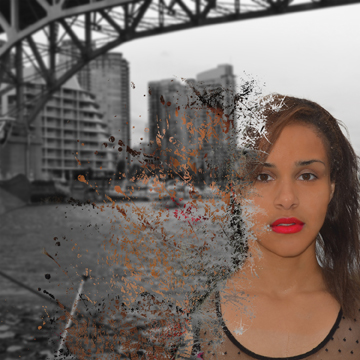 If they are willing to do it in the rain – I'm willing to watch it in the rain.  These young artists took on powerboats, reminding us that Vancouver is in a rain forest and the most dreaded of Granville Island obstacles – drunk rich people.
Made up of a combination of verse, modern lines and with a through line of the five steps to acceptance of death, Phycopomp is the story of Glauce (daughter of the king of Corinth and Jason's second wife) who is murdered by Medea and preparing to cross the river Styx.  We stand at the market place pier looking down over a movement based re-enactment as Medea murders Glauce, locked in her final moments of life.  The action then moves behind us and around us as the piece explores the Medea myth.
What I love about site-specific work and outdoor work is the unique nature of every performance as the nature gods and surroundings bring in their unique additions. There were several moment of beauty Sunday night that will probably be unique to that soaking wet audience. We saw Medea singing sadly on the pier as a single seagull swoops above her, then she turns and walks slowly towards the amber lights of boat masts and the Burrard Street Bridge speckling the grey horizon.  It was a lovely moment of loss and loneliness that will stay with me for a long long time. Another great moment offered Glauce standing proudly in on the bow of a zodiac, her red dress flapping in the rain, as Charon rows towards English Bay and the afterlife.  Pretty cool.
This is a young company at the early stages of development. I believe that their exploration and combination of verse, movement and modern imagery is quite striking.  Not all of it is effective and not all of it comes together yet, but it is visceral and ambitious and certainly worth a look. I look forward to seeing what else they come up with.  Definitely worth the 25 minutes I spent in the rain.
By John Jack Paterson