The Plank Panel at the Toronto Sketch Comedy Festival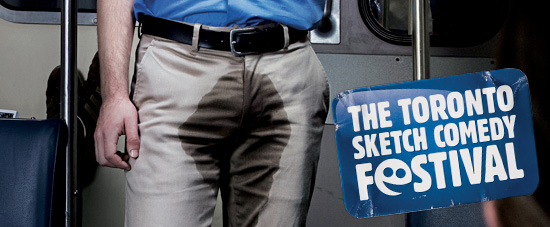 Toronto's fifth annual Sketch Comedy Festival has (long) come and gone, leaving behind a wake of satisfied audiences and enthused sketch artists.
There is never a shortage of sketch performances in Toronto, but there is also no substitute for the convenience and positive energy that a festival provides. Capitalizing on that convenience and energy, PLANK's own comedy afficionados, Justin Haigh and Ryan West, took in a broad swath of this year's performances. Here are their distilled takes on the troupes, the performers, and even a little socio-cultural fat chewing.
Justin's Hits:
Right off the bat I'll say I was quite impressed this year. I find there is usually an element of hit and miss with sketch (and that may largely be due to taste), but what I do appreciate about this Festival is that all the troupes typically bring their A-game and what they know is sure-fire material. Of course that means that if you are already a big fan of one troupe or another, you will almost certainly see old material, but on the other hand, there are very few awkward moments where you can tell a troupe is floundering in the midst of an untested sketch. If there is any floundering it is usually due to the sketch or performances not landing with the audience not because the troupes are testing out new material.
My personal picks, and what I thought some of their best material were:
The Understudies. These guys are one of the few troupes that have performed every year since the Festival began, and I still never get tired of hearing their karaoke style segues which replace the lyrics to a variety of recognizable songs with the phrase "Wicked awesome cool". Their courtroom sketch, which pitted 'Yo Mamma is so fat' vs 'Yo Mamma is so ugly', was a great straight-faced reframing of the classic dis battle.
Falcon Powder. Two out of three of Falcon Powder's members (possibly all three - the program bios are pretty limited) are Second City alumni, and it shows in their style and polished routine. A bit about a three-man crew sent into space to save the earth from an asteroid is the longest and best written bit of their set, and ends with a memorable rendition of the Jurassic Park theme.
The Shoeless Company. Unlike some of the other troupes, these guys understand subtlety and use it to their advantage. A series of Remembrance Day jokes (their performance was on November 11th) were simple and sharp but the best scene was their last in which a music store full of shoppers spontaneously launch into a Michael Jackson dance number. Shoeless probably had the biggest cast of any of the participating troupes which made the unexpected choreography that much more impressive.
Haircut. The winners of the audience choice award found that perfect balance between concept and performance. I wouldn't say their writing was as sophisticated as some, in terms of wordplay or stylistic flourishes, but their slightly-off naturalism and high energy delivery definitely hit the mark. A bit about a dog and his owner was some of the best physical comedy of the week.
Local Singles. I was ready to write this troupe off based on the first minute of their first sketch, but they turned my opinion around in no time flat once the concept of the piece (that a man is called out by a snarky café customer for trying to pick up a girl using the plot of a Nicolas Cage movie). The Nick Cage bit was great, but their best sketch was an ad parody for a board game called "Roll and Move".
Uncalled For. Although they got fewer belly laughs than they normally do, this Montreal Troupe was still noteworthy for their cerebral and nerdy humour, as well as imaginative stage work. It's really hard to dissect their act into individual components so I'd say the performance as a conceptual whole was a highlight.
Deadpan Powerpoint. These guys had by far the most original concept in the festival. Excessively dry and ridiculous powerpoint seminars on topics like sandwich making, how to be a hipster, and sports event trash talking, are enhanced by rich yet calculated narration and the amazing use of found images. It's the kind of performance about which you can't say "I've seen this before."
The New Excitement. Again, not the best written material, but this troupe hailing from New York City delivered some of the most committed performances, and their sense of unison was remarkable. One short sketch about two brothers who find out they are adopted resulted in probably the funniest and slightly disturbing twist ending to any sketch I've ever seen.
Last Call Cleveland. Also representing our neighbour to the south, these guys showed a lot of versatility with solid musical comedy, videos, and character based sketches. In what was probably an unofficial nod to the passing of John Hughes, their funniest bit was a straight-faced monologue by "Chet Huntley" an appropriately meat-headed but overly polite version of the 80s teen movie villain archetype.
Hot Thespian Action.  Thespian is the right word for this young gang - you can practically smell the theatre school on them. Most of their laughs came as a result of their remarkable staging and imaginative physical performances more so than from tight writing, a perfect example of which was a depiction of birth from the baby's point of view.

FrankenMatt. This LA duo stood out in my mind as one of the few companies who used their own personalities as a foundation for their comedy more so than by inventing zany and improbable characters. This resulted in great chemistry between the two and a good rapport with the audience. Their Shakespearean baseball coach was to die for, and the use of a garden gnome and an odd looking doll were hysterical touches.
Accidental Company. After their recent solo show (you can read the review here), I was happy to see that all my favourite sketches made it into their performance, including "Mike Bedford's big book of ideas" which is pure odd-ball goodness.
Kanellis and Armstrong. Another two-hander, these sharp performers can claim one of the most thought provoking (and yet still funny) sketches of the festival with parallel monologues by two gay men, one from a small town in the southern States, the other from a rural African village, describing their respective troubles.
Ryan's Hits:
I actually found this year's offering of troupes to be more uneven than previous years - though this might be explained away by the fact that I eschewed my usual tendency to focus on my favourite groups and instead set my sights on entirely new material. A risky gambit perhaps, but my repertoire was in dire need of some expansion, and I caught enough brilliance to make the whole experience more than worthwhile.
While not performing in any sketch capacity, I'd like to make a special honourable mention of Gary Rideout Jr., proprietor of festival venue The Comedy Bar and nightly host of the events held therein. Aside from the contribution of the amazing venue (the familiar atmosphere at CB always feels as much like a house party as a theatre performance) Rideout also went above and beyond in his hosting duties. At one performance I saw him expertly chastise a heckler into silence, while at another he actually took a stool and shaved off his much-criticized hockey hair between sets in order to buy the next act some extra time. If that's not devotion to one's craft, I'm not sure what is.
Without further ado, the groups that made particular impressions on me this year:
Skule Nite. Boasting a lineup composed of University of Toronto engineering students, the members of Skule Nite wholeheartedly prove that the arts and sciences are hardly mutually exclusive. Staying true to their promise to avoid 'obscure engineering references', these future builders seemed as comfortable on stage as any theatre school veteran. Boasting the most diverse lineup of any troupe I saw, they brought big laughs with sketches such as a man who narrates the goings-on of his small shared apartment as if it were a film trailer.
Death Ray Cabaret. I'd heard plenty about Death Ray prior to the festival so expectations were set pretty high, and they did not disappoint! Typically I find inserting videos into a sketch sequence ruins pacing and creates more trouble than laughs, but Death Ray disproved my rule with a wonderfully executed Twilight spoof that was well worth the interruption. They brought the kind of energy to stage that was too infectious to ignore.
The Chesterfields. One of the few groups I saw twice this festival, the Chesterfields managed the impressive feat of getting repeat laughs with repeat sketches. Juan Valdez as a tyrannical coffee shop owner, a pair of lugers in an existential crisis, and a battle between two spies as eerily narrated by an answering machine had me in stitches.
Fully Insured. Remarkably this troupe was the only one I saw this year who hit upon my personal holy grail of sketch comedy; seamless scene transitions! They never ducked off stage or went to black, and their skits flowed so perfectly together that the audience was barely left with a chance to catch their breath. A deadlocked professional wrestling match between Immovable Object and Unstoppable Force was especially snicker-worthy.
Deadpan Powerpoint. I've got to go with Justin on this one: the most original concept I've seen in quite some time! Names of sketch troupes are rarely meant to be literally descriptive, so when two men appeared on stage to narrate a powerpoint presentation in deadpan tones, I was already laughing. The audiovisual gimmick was a home run; how they managed to maintain such straight faces I'll never know.
Statuatory Jape. Off-colour name aside, Statuatory Jape had a dynamic collection of sketches that actually benefited from their youthful - if not amateur - vibe. Varying so significantly in look and style, the members used their eclectic appearances to imbue extra punch in already well-written sketches. Their high-octane introduction of two coworkers chastising a third for his 'high moral fibre' set a high bar, which they continued to sail over throughout.

Smells Like the 80's. These guys were one of my personal favourites from last year, so I couldn't resist checking them out again. Enough new material mixed with previous hits made them well worth the revisit, while their bit about Brian and Ben Mulroney possessed an extra hit of tongue-in-cheek irony, given it was performed concurrently with Ben Mulroney's hosting of a show at another venue.
2-Man No-Show. Another duo whom I'd heard quite a bit about, Ken Hall and Isaac Kessler lived up to their reputation in spades. This 2-Man show proved they could go well beyond the 1-note joke of their marked physical disparity (Kessler towers over the impish Hall by at least a couple feet) with a blend of musical comedy and an eerie number of dance sequences. Kessler and Hall had some of the best on-stage chemistry I've seen, with a fraternal sort of air between them that really drove their humour home.

Justin's Misses:
Although most troupes had at least one or two sketches that hit the mark, there were a couple that didn't quite meet the festival average.

She Said What. A lot of promise from these two performers (a fact also recognized by the Tim Sims encouragement award nomination jury), but their material wasn't as shiny as it could have been - evidenced by a lack of audience response.

The Boom. Some very funny moments from this large troupe (which includes well-known standup Nikki Payne), but their performance was sullied by shock value and crude humour. Not that there is anything wrong with shock value and crude humour, but when your entire set depends on it, it loses meaning and becomes tiresome.
Dinkus. I am still not entirely sure if their set was improv or just one long sloppy premise. Even if it was improv, it was weak improv. They grew on me after a while, but still never fully recovered from a lame first few minutes.
Oddville. By far my least favourite act of the Festival. I will give them credit for two great musical mash-ups, one between Leonard Cohen and The Barenaked Ladies, and the other between Walter Ostanek and Alanis Morissette but beyond that I thought they were hokey and offered little more than over-acted schtick. I'm not even sure they qualify as sketch. To play devils' advocate I got the impression their act was originally conceived as a traveling show with rural Canadian communities in mind, but unfortunately Sketch Fest is very much an urban affair and their performance came off as inane and about as edgy as a marshmallow.

Ryan Misses:
Free Love Forum. I seem to be alone on this one, but I did not enjoy this New York troupe. They had one or two good sketches - one in which a man learned his unique medical condition was a baby rattlesnake inside his heart - but all in all most material fell flat. Then again, any group that made post-performance chitchat with Rachel McAdams must be doing something right, comedy or otherwise.
Frenzy. This group was actively baffling, with a collection of surreal sketches that felt more like inexplicable inside jokes than anything else. Writing in their own encore was an especially tacky move, especially in response to only a polite smattering of applause.
The New Excitement. I'm going to have to come down on the opposite side of the fence from Justin on this NY troupe (I didn't have much luck with the Big Apple this year). Though their energy was commendable and I certainly didn't see anyone more excited to have been invited to Toronto, but the actual material was remarkably childish. Two thirds of their performance seemed to involve spitting food at each other, clambering clumsily through the audience or making out with each other for shock appeal. The laughs weren't nearly worth the mess.
Obliged. I actually thought these excerpts from Megan Grano's one-woman performance about the trials and tribulations of being a member of a bridesmaid party were well-written and well-performed - I just couldn't figure out what they were doing in a sketch festival. Aside from pimping her upcoming show, the benign solo comedy was jarringly out of place bookended by actual sketch teams.

Oddville. On this one Justin and I are in agreement; this hokey duo felt more like your cheesy uncle and aunt performing at your sixth birthday party. Their jovial, inoffensive humour might be perfect for elementary schools and community centers, but surrounded by toilet humour and incest jokes, they were quintessential fish out of water. That said, I admit any act that incorporates a bit of tap dancing is doing something right by me!

Individual performers that left an impression:
Justin: For whatever reason, Cole Osborne of Punch Drysdale stood out in my mind. I think if you saw one sketch troupe in the midst of an accountants' convention, the member of the troupe with the biggest personality would stand out, but in the Sketch Fest where you are surrounded by big personalities, subtlety stands out, and that's what Osborne does really well. I've seen him go big in other shows, but he's just as funny when he's standing and staring - and communicates volumes just by doing so.
Honorable mention goes to Mike Kiss and Ted Sutton of Deadpan Powerpoint who do deadpan really damn well. They are also both accomplished voice actors, and I think they use that skill set to great effect. Baritones sound naturally authoritative.
Ryan: I saw a lot of female troupe members relegated to choral or token roles this year, so a particular tip of my hat goes to Kristi Angus of The Chesterfields for making such a huge impression with her enthusiastic roles. Other favourites included K. Trevor Wilson of Smells Like the 80's for his astounding ability to simultaneously be the loudest and most vulnerable presence on stage, and Simon Pond of Statuatory Jape for his classical vaudevillian motif, personifying a nasal modern-day Bud Abbott.
Strangest sights and sketches:
Justin" Unlike the 2008 Festival when there was man-gina and fruit baskets aplenty thanks to FUCT, shameless male nudity was on the down low this year. The strangest thing I probably saw were two members of The New Excitement spraying coffee into each other's mouths repeatedly, and just about everywhere else. I know that doesn't make much sense out of context, but it didn't make much sense in context either - still, a great visual especially considering the sparkling white outfits they started with.
Ryan: The New Excitement's food-based humour was one of the more bizarre sights I encountered this season, as when a trio of members-as-horses spent a good two minutes chewing and spitting carrots all over each other.
More enjoyable spectacles would include Oddville's burlesque tour through the four seasons, where an outfit is shed layer by layer in a display of costume designing brilliance. Also worth noting would be 2-Man No-Show's choreographed homage to the Time Of My Life scene in Dirty Dancing.

Diversity in terms of gender and race in sketch
Justin: This is one issue that I've always been a bit curious about. Statistically speaking sketch is still very much dominated by white males. Some institutions like Second City are fairly balanced gender wise, but there doesn't seem to seem be a proportional representation of visible minorities. This is still a trend in many spheres of life, including corporate business, but the reason I find this peculiar in sketch is that within the stage acting community and the standup community there has been more progress in terms of ethnic balance. Why sketch lags behind is a mystery to me.
I am encouraged that more women are now jumping into sketch (a long way since the days of Monty Python when they had an "honourary female Python", Carol Cleveland, who was hired first for her looks and kept on for her talent), but what I do find is that they end up with a lot of the straight parts. To use Flamingo Bandit as an example, female half Tessie Burton was relegated in 3/4 of their sketches to play backup to male half Derek Forgie. When they finally did switch roles and she played Rosemary, a creepy workplace stalker to Forgie's straight laced employee, it really made me want to see more of her comedic chops put to use.
The staggering imbalance in the field of sketch can't be argued; I found it disheartening that amongst the wide selection of shows I took in, I didn't happen across one all-female sketch group. As you mention it's a stark contrast to several other stage mediums; even a short lateral shuffle to the far-more-balanced field of improv comedy shows a sharp contrast.
Racial diversity was even more abysmal; I encountered exactly one black comic in my entire festival experience. He remains a mystery due to a lack of biographical information on Skule Nite's website, though he deserves accolades for an excellent performance. Beyond that things seemed pretty much Caucasian across the board (perhaps a couple Middle Eastern exceptions) - and not exclusively in terms of rosters. Any mention of race was absent from the content of sketches as far as I saw, save for one awkward introductory rap sequence by The Serious that 'went out to their black friend in the audience'. True, when the spotlight went up on said friend at the end to deliver a sadsack: 'well, at least they remembered' it was a good punchline, but also served to illustrate the dearth of diversity pretty clearly.
 
By Justin Haigh and Ryan West