Peach - Hilarious, Gutsy and Poignant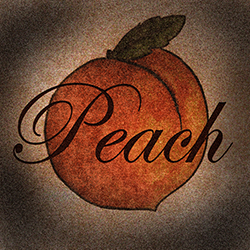 Peach, a five-star, one woman, monologue show that has been travelling through Canada, has found its home at Vancouver's 2016 Fringe Festival. Danielle Roy spins a cheeky, giddy tale, woven with misadventures and brazen, laughable revelations of teen love. Peach, played masterfully by Alex Harthorn, holds the audience captive with her woes and rants, and later, her heartbreak. Peach initially masks itself as a naive tale of young love but slowly builds into a gritty expression of female victimization in all it's horror.
"Love is bullshit, but bullshit is suddenly delicious." Young and cynical Peach announces this as she's swept up by a guy for the first time. Her new boyfriend, amusingly a mannequin with a television head, literally lights up when he sees her, his screen glowing from a bright spotlight inside. Previously judging other girls for falling for unimaginative, sleazy lines, Peach has her first kiss and is convinced she understands "everything about life and love."
Peach's gutsy honesty mimics reality as she terrifyingly wades through the muck of birth control, porn, doctor's appointments and, at long last, sex. Despite the entertaining comedy, Roy showcases Peach's desperation to please, her passivity, and her willingness to suffer in the name of love. These tendencies seem like typical turns in the relationship but what it reveals is the persistent, unwavering commitment of a woman clinging to something that is a false replica of love.
Roy creates delightful segments, such as an imaginary cooking show where Peach makes peach pie. She takes peaches and slices, dices, and burns them over and over, parroting the slicing, dicing, and burning of her heart. These segments are executed well, in that they don't take the audience out of the story, but rather add another perspective to Peach's experiences.
Those who caught Peach's opening night were left awestruck, clapping their hearts out as the theatre turned dark. Hawthorn's performance was woven with charm and bluster, casting an urgent, emotive spell. With amusing props and compelling dialogue, Peach is a poignant, yet typical, story of love gone wrong told in a fresh, new way you won't want to miss.
Peaches are soft to the touch, vulnerable and easily bruised, but inside, there is a solid, durable core. Is this analogy parallel to Peach's inner core? Will Peach be strong enough to make it through her first love? Or will it bruise, break, and consume her? Make your way over to Granville Island for the Fringe Festival to find out.
By Jenna Diamante