One Good Marriage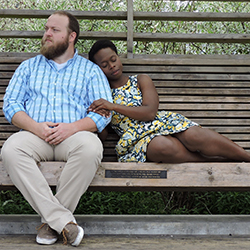 Brought to you by Fork in the Road Theatre, One Good Marriage is part of the Dramatic Series featuring theatrical works by published playwrights. Written by Ontario playwright Sean Reycraft, this script tells a mysterious tale of two newlyweds Stewart and Steph. The first words we hear are:  "Everybody died." But we aren't told what that means. At least, not right away.
We meet the somewhat gregarious, laidback Stewart (Dan Willows) who is a high school librarian and Steph (Ese Atawo) who is an English teacher. They work at the same high school and have just met at Stewart's book club for teens (he runs it, but never reads the books). She seems anxious, complaining of cold, then needing a drink of water. Stewart is very solicitous - he tries to calm her down, to help her focus. They begin to tell us the story of how they met, using "couplespeak" as their voices overlap and they switch back and forth adding more and more details. Some of their story is funny - descriptions of high school bathroom graffiti, of a slightly overbearing neighbour and the horrifying idea of Jennifer Aniston on screen without makeup. But the overall tone is foreboding... we gradually sense that there is much more to this story.
Mike Mackenzie is the director / designer of this Vancouver professional premiere production and he keeps it very sparse. The set consists merely of two chairs and a silver-coloured storebought Happy Anniversary sign that seems to be falling down. The performances of Dan Willows and Ese Atawo seem quite restrained; having seen both onstage as improvisors, I know them to be capable of much broader characterizations. This production of One Good Marriage asks its audience to come on a journey of falling in love, getting married and the momentous year that follows. It offers an opportunity for audiences to be drawn into a story of a couple for whom we do not immediately know what the future holds.  
By Allyson McGrane