Mrs. Barbour's Daughters - Housewives Can Lead Revolutions Too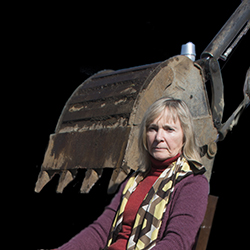 Mrs. Barbour's Daughters by AJ Taudevin is inspired by a true story around a very real Mrs. Barbour, a Scottish housewife and political activist who invoked change in the early 20th century. Mrs. Barbour is known for gathering women to fight against increased rent, her organized protests quickly leading to the Rent Restriction Act in Europe. Taudevin's story takes place years after, focusing on 87 year old Mary, played by the magnificent Barbara Ellison, who is facing eviction from her building that is set to be demolished. Mrs. Barbour's Daughters uniquely unfolds with flashbacks to Mary's past as songs on a radio station, appropriately dubbed Memory Lane, cause Mary to reminisce her former life. Prepare to have your heart twisted with this dynamic, women-led musical.
The audience glimpses Mary at three other stages of her life: as a child, a teenager, and an adult. Through these fragmented pieces, it is clear the effect Mrs. Barbour had on Mary's youth. Instantly likeable Ellison gives an outstanding performance with the perfect blend of lively witticism and a refined grasp of tackling the tender, sometimes painful, matters. Join Mary as she battles with hindsight, and the regret and bitterness that often accompanies it.
Mary's niece, Joan, played by actress Claire Pollock, states near the play's start, "Sometimes we don't get a choice what happens in life." Later, it is revealed that Mrs. Barbour would say otherwise: "We've no need to accept things the way they are." Mary, who has seen Mrs. Barbour incite palpable change, hopelessly feels as though those days remain in the past. How will these recollections affect present day Mary?
Mrs. Barbour's Daughters inspires. Slick with comedy and shaped by history, intertwined with the voices of the divine, Taudevin proves to engage and deliver until the very end.
At one point, women march throughout the theatre and sing
"We are marching in Mary's army
Bella ciao, bella ciao, bella ciao ciao ciao
We are marching against injustice
And we won't be silenced now."
The audience is urged to join in, and the result is powerfully elevating; an unforgettable experience. If not for the story, come for this collective, chilling moment. I promise, it is worth it.
By Jenna Diamante