Little Lady - She Just May Transform You!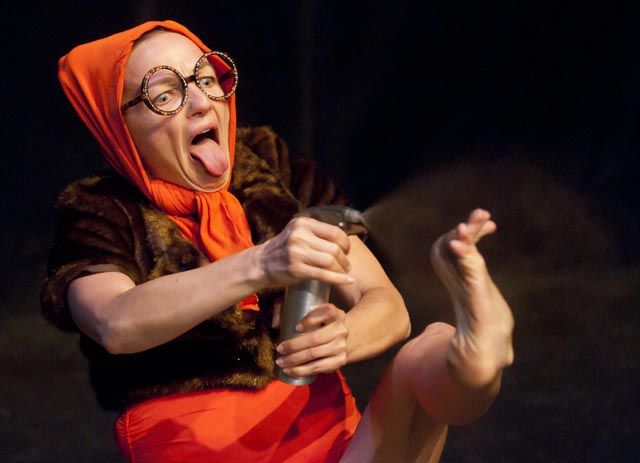 This is a show unlike anything you have seen before – a wordless combination of physical theatre/comedy, grotesque clown / bouffon and dance that just may transform you.
Performer Sandrine Lafond brings her show Little Lady from Las Vegas – one of my favorite places & the transformation capital of the world.  Whether it be transforming a desert into an oasis, a hotel into a pyramid or castle or transforming a human's face, teeth, boobs & abs to create the perfect body for lounging by the pool - Vegas is the place.  Lafond herself has recently transformed from Cirque Du Soleil and Celine Dion dancer to performer generated theatre artist and has hit it out of the park with her first show Little Lady.
We are welcomed by a short avant garde film of a young woman running in the desert with a parasol. It is a mesmerizing view of a woman who is free nothing and no one to constrain who she really is.
Following the film take a look through the cage and prepare to be an observer – see the experiment as it progresses as history is made.  As Lafond enters in her orange skaters dress, orange headscarf, fur jacket & giant orange bug eyed glasses she immediately grabs our attention and does not let go for 60 minutes.  As she walks the stage with her little cane she is animal-like & resembles a cockroach or possibly a cricket. She drinks from a bowl on the floor, has habits (including a hilarious sequence of cleaning herself), has rituals & plays – she gets excited when the voices from the TV speak to her to teach her things like knitting and boxing. These voices on the TV are the only voices in this wordless play – but she is anything but silent as she goes about her habitat.  Beware – she knows you are there – she can smell you & hear you – just as you can see her.
Watch as the scientists condition her shockingly to behave the way they want, sleep when they want & eat what they want including food that seems to send her into violent transformations as she sleeps changing who she is, how she acts, & how she sees herself.  An experiment that sees her transform from Cricket to a hybrid Cricket/Human creature, later transforming to a woman, then developing into a sexpot…to finally emerge as the Little Lady.
As a dancer, a clown and an actor – Lafond makes every movement, gesture and facial expression precise, perfect and extraordinary – twisting her body into positions that would cripple most people.  Director John Turner (of Mump and Smoot fame) has assisted Lafond to hone Little Lady into a polished piece of theatre that is beautiful to watch & heartwarming to experience – maybe you too will be transformed.
 
By Jason T. Broadfoot