Lies!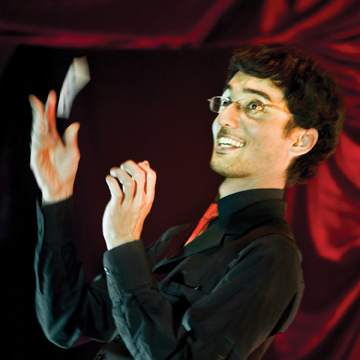 Many Fringe shows involve the performer breaking the fourth wall and addressing the audience or (gulp) moving into the audience and singling out people to engage.  This show will have you shouting things out and throwing things on the stage and enjoying every minute of being lied to, deceived and tricked.
This mostly new magic show retains a couple of my faves that can still crack me up even knowing what's coming but what still shines through is the honest and sincere enjoyment of Travis Bernhardt himself. He has an easy balance of confidence, humour and humility that makes an immediate connection with the audience. It's contagious and when the kids start jumping in the first couple of minutes into the show, you know it's authentic.  If dogs were allowed in, they'd wag like mad and follow him around.  You can trust kids and dogs if not reviewers.
It's a tough job for the reviewer to give you a taste of a magic show without blowing the surprises so I'll just give you some vague descriptions of some things you may see (or may not see):
Fruit  
Funny walking
Fond embraces
Cards hiding in strange places
Mind reading
Head space
Walnuts
Critical mass card trick
Complicity and attendant moral dilemma
This award-winning show will likely sell out the rest of the run.  See it before it disappears!
 
By Lisa Barrett