Give It Up – The Hilarity in Never Quite "Making It"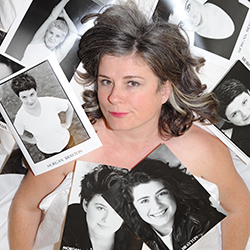 Musings about being an actor before an audition for "cashier #2", Vancouver-based film and television actor Morgan Brayton reflects on her adolescent ideas of being a successful actor and all her apparently "golden ticket" opportunities in Give It Up.
The show is filled with moments that make you laugh because they are true. Like the second-hand embarrassment you feel when Morgan shares with the audience how she has failed all her prepubescent dreams of having a spin off series, sharing the cover of Teen Beat with Scott Baio and being invited to late night talk shows.
Never quite fulfilling her childhood dreams, Morgan still lands herself some supposedly "golden ticket" roles.  As Morgan shares tales of her time in Hollywood, she relives the moments of optimism followed hilariously by the bitterness when they don't turn out as promised.
True stories of being on a recurring character on a TV series, watching cast mates get their "big break", finally experiencing the director-actor relationship she's always wanted, having her face squished by Patty Duke and reminiscing with Patrick Swayze about that legendary pelvic-thrust on Saturday Night Live. All these moments give her a taste of the dream she has been chasing since she was a little girl performing in front of her stuffed animals, but hard work does not necessarily translate into stardom in the fickle business that is show business.
Between the moments of vulnerability, Morgan brings to the stage out-of-this-world, car-crash-you-can't-look-away-from characters that have the audience in stitches. From the manager who finds the glamour in everything, to the mom on the sidelines who knows her kids are born winners, the true stars of the show are the laugh out loud characters Morgan creates who never completely let go of their dreams of making it.
Overall this show follows the neurosis of an actor asking herself why she is still in this business while making sharp observations about the absurdity of her chosen profession. I appreciated the vulnerability of Brayton, who laid her insecurities on the stage for the audience to laugh at throughout her performance. Guaranteed to have big laughs and make you appreciate the highs and lows of actor life.
By Stephanie Lo