The Genghis Khan Guide to Etiquette: simple and good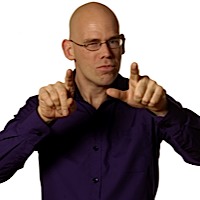 He's back. Brit comic Rob Gee has returned to The Fringe with The Genghis Khan Guide to Etiquette a show having, in his own words, "nothing to do with Genghis Khan, and even less to do with etiquette".
Gee was a huge hit at last year's Fringe with his show Fruitcake - true tales from his time as a nurse in a psych ward. Although Khan may not be as good as his previous effort Gee is still a pleasure to see, and with word of mouth and rave reviews, he'll no doubt sell out the rest of his run. So get in line, you really don't want to miss him.
The theme of The Genghis Khan Guide to Etiquette is one of social interaction - something Rob Gee is very, very good at - with his goofy grin, happy demeanor,
and gift for the gab he's a hard guy not to like. Khan is a series of stories Gee tells about funny social interactions he's had, each followed up by one his crazed poems. That portion of the show is over a little too soon, and so for the remainder of the his performance Gee returns to some stories from Fruitcake that were cut from that show.
It doesn't fit, but it doesn't matter. Gee is an amiable, very funny guy with an infectious enthusiasm that goes beyond mere "theatrics". His story telling doesn't require props or costume changes - it's as simple, and as good as The Fringe can get. Enjoy.
The Genghis Khan Guide to Etiquette is on as part of this year's Victoria Fringe Festival. For more information go here.
By Paul McKinnon