Evil Dead: 10 out of 8 Candarian demons agree…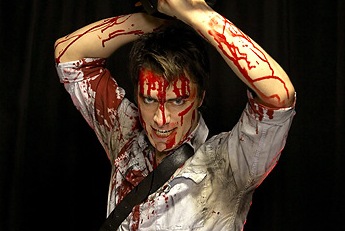 As I took my seat with a cup in hand I was questioned by Dave, the fellow on my left, "Doesn't that beer go against your professional code of ethics?"
Since I was drunk the first dozen times I enjoyed any Evil Dead movie, it goes against my code of ethics to not have a beer…  turned out I had to finish the beer quickly or I'd end up wearing it from laughing.
You may already be calling me a Deadite but I will confess, I was somewhat trepidatious before seeing the DSR production of Evil Dead: The Musical at the Norman Rothstein; I love this story! What have they done to it? What was I was going to be seeing on stage?
This Canadian created (it started life in Toronto) adaptation of arguably the greatest "horror trilogy" ever, is honest with the story as we know it and in true spirit of los Evil Dead, it goes beyond. From the opening cue we know what to expect. Fun. 5 cheery, horny college kids head to a deserted cabin in the woods for "the best spring break vacation ever": what could possibly go wrong? Since you'll enjoy the play whether you know the story or not, there is no sense in my repeating it (and if you don't….    go see.) So let's get into the guts of the beast.
I'll agree with fellow Plank'r Mr Unger on a few points. Firstly, the "miscues" and accidents that the cast and audience rode like a wave was fun for all and that is a precious singularity to theatre. Out of the solid cast I have to say the standouts for me were Ash (Scott Walters), Shelley/Annie (Meghan Gardiner) and a new member to the story line, "Good Old Reliable Jake" (Mat Baker). Capable, controlled and loving what they are doing. These are the elements required for this future "cult classic" to succeed. The live band does add something you can't get from recorded music (not a dig against anyone else, just my observations from years of working on both styles). The urgency and warm feeling you get from a live band really helps set the tone for these performers to shine.
Production values? Sounds right, looks good, moves well… Could I have asked for more?  
Yes.  
More blood. 
 
While those in the "splatter zone" did not seem disappointed, I couldn't help but wish for a little more of the eau de vie spraying across the walls, out of the cellar or out of somebody for that matter. Last time I hacked up a Candarian demon it took me 3 days to wash off the gore, and Ash slays how many?  However, I did overhear, the crew has been staying late each night to wash the goo from "surfaces above the audience" …perhaps an artery hit from a bit part demon?
Following the show I was speaking with Lily, the lady to my right, about the two productions in town dilemma and if she would be going to see the touring version. She seemed content to leave it at this experience and had no plans to see the "professional" show. Elaborating she says, "these people are the low budget ghetto version, and that's exactly how Raimi and Campbell did it in the first place." Fair enough. Perhaps some day a paper will be written on the current Vancouver situation as it relates to the ongoing ED I vs. EDII debate.
Regardless, if you want an evening of great theatre with some campy horror for entertainment: Go see Evil Dead: The Musical at the Norman Rothstein Theatre. Any night is fine, they'll all be good.
The DSR version of Evil Dead: The Musical continues at the Norman Rothstein Theatre until November 7th. For more information why don't you splatter yourself  here.
 
By S Tyson