The Donnelly Sideshow - Is There No Justice in this World? Is There Any Hope for Us?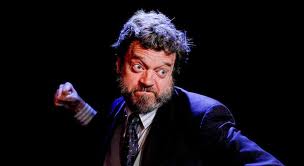 Storyteller Jeff Culbert is on the road and unleashing his own brand of poetic justice to avenge the deaths of "The Black Donnellys".
Directed by Jayson McDonald (Giant Invisible Robot and this year's Underbelly), The Donnelly Sideshow takes us all the way back to 1880 and weaves the vibrant tale of The Donnelly Family of Lucan, Ontario and their infamous and tragic murders by a group of vigilantes to which a young boy was the unfortunate witness.
It's a fascinating story and Culbert infuses the adventure with enthusiasm, singing original songs and accompanying himself on the guitar.
Having himself grown up in Lucan, Culbert has a personal connection to his story and draws us in to this masterfully woven tale with intrigue, humor, music, and a dose of romance. If you like your poetry laced with a bit of justice, The Donnelly Sideshow may be for you.
By Maryth Gilroy