In Conversation with: April O'Peel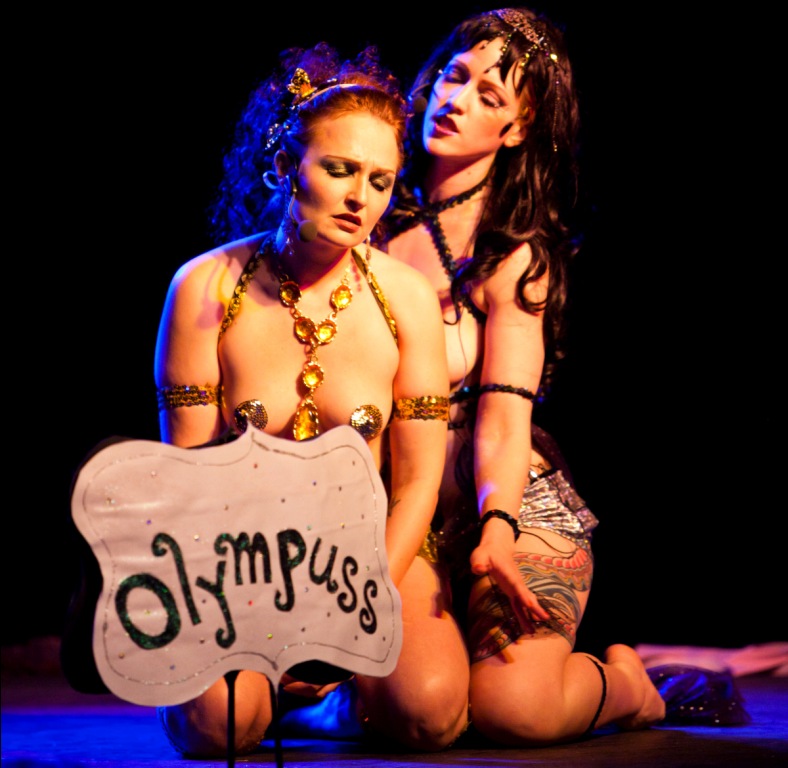 Greece Does Grease is a new mainstage burlesque show from the co-producers of last year's smash hit SHINE: A Burlesque Musical. Greece Does Grease reaches back deep into the history of burlesque for inspiration while providing a contemporary parody of the Grease musicals. I chatted with Lauren Allen (aka April O'Peel), the show's choreographer, about the production which opens October 7 at the Waterfront Theatre.
Andrew: So, Lauren, or should I say April, which do you prefer?  
April: April please! 
Andrew:  Okay, April it is. Tell me about Greece Does Grease. What's the background on the show?
April: Greece Does Grease is a full length burlesque musical that first ran last February during the Olympics. We wanted to try out a new format of show that ran similar to old school (and I mean really old school) burlesque show structures. In the traditional format, the first act would be musical in nature (ie there would be a band), the second act would feature variety acts and the third would contain a full length Burlesque play. In a sense, Greece was our third act!
Andrew: So does that mean there won't be music or variety acts during Greece Does Grease? 
April: Oh hells no! We have an amazing live band to accompany us for all our musical numbers! Traditionally, the first act would feature a band most likely without dancing. I guess I meant to say was that we won't have specialty variety acts like jugglers or knife throwers, which would have been traditionally featured during the second act. But we will have singing, dancing, stripteasing, drama, and comedy all set to that live music I was telling you about! Ah-Mazing! I would say burlesque has now evolved to become the ultimate variety show. 
Andrew: Got it. So, seeking inspiration from burlesque's past is obviously important to Screaming Chicken.
April: Screaming Chicken constantly finds inspiration from the history of the form. The first burlesque plays were parodies of popular, "high-class" theatre. The very first burlesque play to come to North America came from Lydia Thompson and the British Blondes with their parody of the Greek myth "Ixion." The production was so popular it ran for six years! Here's hoping history repeats itself!
When Melody (Mangler, creator of Greece Does Grease and one of the performers) was asking for feedback on the idea of a parody of the Grease musicals, I was really cheering for a greek myth and wouldn't give up on the "Greece does Grease" idea. She originally wasn't so sure but after doing some writing and figuring out how great some of the song parodies could work out when combined with the myth of Persephone and the seasons – for example "Look at Me, I'm Sandra Dee" becomes "Look at me, I'm Persephone" – she got just as excited!
Andrew: So when you mention going back into the history of Burlesque, how far back do you mean? The 1920s? The 19th century? Does this interest in the history of burlesque influence what audiences will see? Does it make Screaming Chicken unique?
April: Well, Lydia Thompson didn't arrive in New York until 1868! Our interest in the history of burlesque definitely influenced us in how we ended up with our final product but at the same time, satire and parody have never gone out of style! Taking the piss out of popular culture is a technique used by showmen throughout the ages. I don't think the blending of old and new is exclusive to Screaming Chicken but I think the magic comes in how we deliver it. We pride ourselves on being able to deliver variety coated with our own special wacky flavouring. There is a lot of emphasis on the silly and on bawdy humour. Burlesque's original meaning was "to make fun of" and our style definitely encompasses that! We do all this while staying true to the stripteasing part of our roots which means the combination is one that really is unique to Screaming Chicken.
Andrew: So you're the choreographer for this production. What's your role in creating the dance routines and how do they work with the story that Melody created?
April: I almost prefer the term choreographic visualisor! In term of choreography we work really collaboratively so I can't take the credit for everything. My job has been to take all these ideas and polish them and turn them into a finished idea. I'm the director of dance! Lots of my contribution has been influenced by choreography from different musicals that I love and from the original Grease musical. I look to the script, song lyrics and to our director Violet Femme for direction in terms of what exactly we are trying to get across with the dances. It's been really fun to create movements for the demons in the underworld! Claw Jive baby!
Andrew: So it's really a collaborative experience behind the scenes. The Grease movies are such a touchstone for people of a specific generation. What can they expect to see when they come to see the show? 
April: I'm really lucky to work with such amazing talent. I am surrounded by amazing women who inspire me constantly! I think that fans of Grease shouldn't expect a storyline that was influenced by the movie but they will be able to recognize tributes throughout the show. The melodies are the same but the lyrics are very different. And, as with all Burlesque comedies, a lot of adult humour.
Andrew: Great. Why don't you tell us a little bit about yourself? How did you come to be involved in burlesque – and how did you come up with your stage name? 
April: I discovered Burlesque after taking a workshop called Becoming Burlesque with the Screaming Chicken Theatrical Society. It combined so many things that I really enjoyed about other performance art in a really positive atmosphere. I could also create my own work, which I really enjoyed and the physical Comedy aspect also held a huge appeal for me. I was a dancemedian before burlesque and I have never found a more supportive venue for my ridiculous dances. I have learned so much and honestly still feel that I have a lot to learn. I am so grateful for all the opportunities I have had with this medium.
Andrew: If people want to learn more about burlesque, you have a blog they can use as a resource. Can you tell us a little bit about it and what inspired you to start writing about the form?
April: I write a blog about my adventures in Burlesque Choreography. There are a number of blogs about burlesque in general and I wanted something different. They say write what you know and I thought it could also end up being a great resource for burlesque students or choreographers or at least interesting for people who were wondering how and where I get my wacky ideas. Burlesque is my passion. I have lived and loved so many performances over the years and I've learned a lot.
Through my own performances, the numbers I help my students workshop, all the amazing performances I've witnessed and all the not so amazing ones have definitely helped me form an opinion on what I think constitutes something special. I pick a different number for each post, explain exactly what the heck I was thinking,  try to apply what I know about creating a great number, and share what I think may or may not have gone wrong. Hopefully this is either helpful and/or entertaining for people to read.
Greece Does Grease opens October 7th at the Watefront Theatre and runs until October 16th. For more information peel here.