Flower: list making in the face of absurdity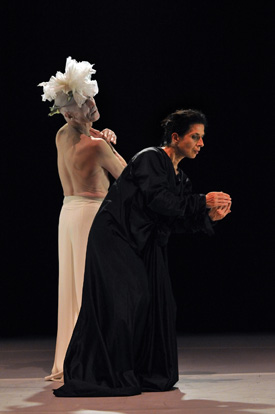 Every year, the "Vancouver International Dance Festival":http://www.vidf.ca/ features some of the world's best butoh artists. Originally created as a butoh festival in 1997, the "VIDF":http://www.plankmagazine.com/review/dance/vancouver-international-dance-... has since blossomed to include all forms of dance, but each year continues to highlight butoh.
This may not come as a surprise, seeing as the festival shares the same directors as one of Vancouver's favourite dance companies, butoh practitioners "Kokoro Dance":http://www.kokoro.ca/.
*Flower*, one of the butoh offerings at this year's VIDF, is a collaboration between Japanese artist Yoshito Ohno and Montrealer Lucie Grégoire. Ohno is the son of the great butoh master Kazuo Ohno, one of the pioneers of this dance form that developed in Japan post World War II.
Although there is no standardized form for butoh, the style is often characterized by themes of grotesqueness and absurdity, with performers usually semi-nude and painted white. Typically, the movement is meticulous and agonizingly slow (To read more about Ohno and butoh, read Jill Goldberg's "interview":http://www.plankmagazine.com/review/dance/yoshito-ohno-delicate-awareness with the Japanese master.) Depending on how wacky you like your performing arts, these combined elements will either serve to stun you or leave you running for the hills.
Personally, I like a little irrationality from time to time. Besides, I'm usually curious to see what the Japanese are up to these days.
*Flower* certainly supports the absurd in its vision. The piece presents some lovely moments, like Ohno running on stage semi-nude and painted white, sporting bunny ears and a small pinwheel, excitedly exclaiming "Spring come, spring come!" Or Lucie Grégoire standing still with her back to the audience, draped in a black flowing dress, while Gloria Gaynor's _I Will Survive_ blares at top volume.
At times, popular music dominates the performance. Although this is effective when juxtaposing, say, a stark-looking dancer and feminist anthem from the 80's, the music sometimes draws the focus away from the performance, creating neither a sharp dichotomy nor an appealing symbiosis. The best example of this is a solo by Ohno performed to the music of Antony and the Johnsons. Either the movement was not compelling enough to draw me in, or Antony Hegarty's emotive falsetto was too powerful for the section. Either way, I felt I was more taken in by the recorded music than the live performance.
A better use of music, in my opinion, is in a lovely section danced by Grégoire, who slowly makes her way across stage, towards a bright light, until she is bathed in the most splendid, glorious dappled light, in which she twirls about in a long, flowing black dress to a particularly moody Handel piece. It is incredibly stirring to watch.
Moments like those kept me in the piece, watching delightfully as the two dancers performed. At other times though, I'm ashamed to say I started to make mental lists of the next day's tasks (pick up toilet paper; go to the gym; write review; call mum). Although I found the absurd elements captivating, the sections lacking that ingredient left me wanting more. There were also moments that came across as a bit too sentimental for my tastes. If you've ever heard Antony and the Johnsons, you might know what I mean: a heavy dose of sentiment can be good if you're in the mood for it, but can seem overdone if you're not.
Even so, a little dose of butoh from time to time never did anyone much harm, and I certainly didn't leave the theatre feeling as though I'd wasted an hour of my life (it's been known to happen). What I found to be the better moments definitely made up for the ones in which my mind wandered. And besides, it's always nice to know what the Japanese are into these days.
_Lucie Gregoire and Yoshito Ohno performed Flower as part of this year's Vancouver International Dance Festival and presented by the 2010 Cultural Olympiad; performances were March 10-11, 2009. For more information wander_ "here":http://www.vidf.ca/index.php?option=com_content&task=view&id=30&Itemid=25
By Maryse Zeidler