Carte Blache | Corps de Walk
Photograph: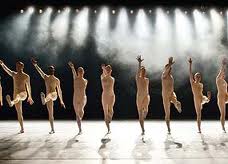 Vancouver Playhouse (Saturday, March 23rd)
Join us for CADA/BC Dance Response w/DanceHouse following the performance…
Carte Blanche was established in 1989 in Bergen, Norway, to perform work by some of the best and most celebrated Norwegian and international choreographers, with a strong emphasis on commissioned work from a new generation of contemporary dance-makers. The combination of the up-and-coming and the renowned results in an eclectic, exciting, and high-quality company at the forefront of the development of dance, both in Norway and abroad.
Corps de Walk is a new piece by Israeli choreographers Sharon Eyal and Gai Bachar. Eyal is a talented dance-maker with a unique and personal language, toying with the erotic, androgynous and sometimes the grotesque emotions in her choreography. In addition to dancing with the company, Eyal has been associate artistic director and house choreographer for Batsheva Dance.