ARTLESS: viral messaging
You may have already seen it at the Wrecking Ball on November 23rd or through Facebook, but we thought we'd share with you the excellent PSA that was created in response to last summer's withdrawal of funding through Gaming and the proposed cuts to the BC Arts Council.
You can find the clip here.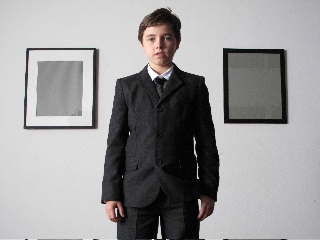 Here's a little background on the film:
ARTLESS, an independently produced public service announcement about the arts funding cuts, was released online Tuesday November 24 as part of a campaign to protest the BC government's current and planned arts funding cuts. The ad, which imagines a grey artless world, is shot in some of Vancouver's most iconic artistic venues.  This powerful visual statement is rapidly gaining attention. After its world premiere as a part of the Wrecking Ball Cabaret on Monday November 23, this PSA received over 1000 hits its first day on YouTube.  ARTLESS is currently featured on the Facebook and Twitter pages of many of BC's top entertainers, and is spreading fast to theatres, schools and TV stations. It can be seen at artlesspsa.wordpress.com
Vancouver filmmakers Kryshan Randel and Cara Yeates were assigned the theme "A World Without Art" by the Wrecking Ball Committee. Immediately, they had the ambitious idea of filming inside Vancouver's most important artistic venues, including the Orpheum, Fifth Avenue Cinemas and Grunt Gallery, emptying them of their art and replacing it with grey. To create further impact, the ad features twelve year old rising star Alex Ferris (RV, The Time Traveller's Wife) wandering through the stark venues, trying to imagine what art looks like.  His journey is accompanied by a haunting song, which was provided by a local elementary school choir.
The team consisting of Randel (Director/Co-writer), Yeates (Co-writer/Producer), Toby Gorman (Director of Photography) and Mathieu Wacowich (Co-Producer), was small but fearless.  The shoot was a tremendous challenge; five locations photographed in one ten-hour filming day on Gorman's one day off from on-set work. "My guerrilla filmmaking background helped us make our day, but barely - it was the hardest thing I've ever done", says Randel.
But the hard work is already paying off.  Alan Franey director of the Vancouver International Film Festival has committed to passing this PSA onto the festival's contact list and screening it at the VanCity Theatre.  ARTLESS will be soon featured on Novus Television and KVOS. And the message is being delivered to schools across BC. Every hour Randel and Yeates are updated of more good news in regards to its exposure.
The team of working artists are dedicated to this cause.  Randel's short drama GLIMPSE recently won the NSI Short Filmmakers Award. GLIMPSE was funded by the Kick Start program, which has recently been cancelled due to the funding cuts. Also, Randel's short horror film JACK won four awards including the Grand Jury Prize at the Bloodshots Film Festival.  Yeates just finished a whirlwind international tour with her one woman plays SOME RECKLESS ABANDON.  Her work has been supported by the BC Arts Council in the past and she's hoping to get funding for her latest project.  Cara was just awarded the first ever Joanna Marratta award for artistic achievement and community leadership at the Vancouver Fringe.
At the moment, all of Randel and Yeates' energies are concentrated on getting the PSA screened everywhere they can. Yeates notes "as artists we are fighting these cuts the best way we know how, through our art."