word! sound! powah!: wisdom and beauty delivered with high energy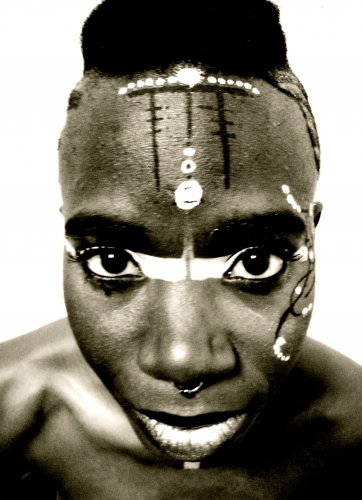 In word! sound! powah!, the third installment in monodramatist d'bi.young.anitafrika's incredible matrilineal saga that started with the Dora award-winning blood.claat, anitafrika offers a distinctly different perspective.
For those who missed last year's workshop of benu, the second part of this incredible work, word! sound! powah!  (currently on as part of SummerWorks) reintroduces us to Benu SanKofa and her involvement in the Poets of Solidarity, an activist group of Jamaican dubpoets. From the moment the intimate sung prologue begins, in which anitafrika makes unbelievably intimate eye contact as she wades her way through the audience, it's impossible not to be transfixed by her hugely compelling and raw presence. When we first meet her, Benu is being interrogated by an officer regarding an ambiguous "incident" that may or may not have been anti-government. Through her impressive cast of characters including the memorable fire-poet Peaches, stuttering Stamma, and the original blood.claat storyteller herself Mudgu SanKofa, now a grandmother, one can't help but wonder where more development will take this second draft (the first having been workshopped at this year's Fringe).
Flanked by musicians offering atmospheric sound and rhythms, anitafrika once again proves her status as is one of the leading young theatre creators our country has to offer. If her high-energy performance were not enough, anitafrika's writing offers a wisdom and beauty well beyond her years: "no next moment is promised to anyone," offers a haunting foreshadowing whereas Benu uses her line "my grandmother prepared me for people like you," as a shield. The chilling incantation of "I'm not afraid" simply will not leave you. In chatting with fellow audience members post-show who hadn't seen the previous two works, we all decided it will be an exciting day when audiences are finally able to see the full trilogy staged in rep, hopefully right there on the Passe Muraille stage.
word! sound! powah! is part of this year's SummerWorks Festival. For more information check this out.
By Dave Deveau