Wolf Trek: Alone in the Woods – A Storytelling Show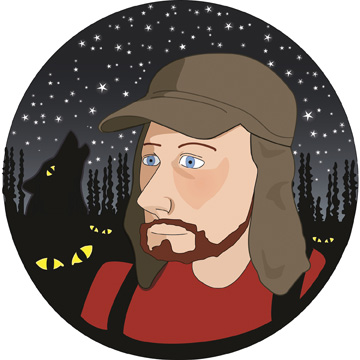 Kevin Kennedy is a soft-spoken teacher who has a story to tell.  He does not tell it in a flashy theatrical style with costumes, characters, movement or special effects.  In fact he sits on a chair placed at centre stage for almost the entire performance – but don't get me wrong, he is an engaging storyteller with an adventure to share, and he got help crafting this show from one of the most masterful storytellers the Fringe has ever seen, BC's own TJ Dawe (dramaturge).
Kennedy's tale is a combination of a solo trip he took to the remote Wood Buffalo National Park and the life decisions that brought him there. A tale of a man trapped in an office in Edmonton – pushed to the edge of what he could take – who is drawn to pack up his family and move them up to the Arctic. He wanted to see how simple he could make his life. He was drawn to the call of the wild…the call of the wolf…well the call of teaching ESL at a local college.
A scheduled bike trip to Edmonton was suddenly cancelled when Kennedy broke his wrist and could not participate.  In a true life quest moment – or possible a midlife crisis moment – instead of staying home to sit and watch TV while he nursed his broken wrist, he planned a two-week solo hiking trip on an abandoned trail in Wood Buffalo National Park.  This was a trip for which he was not prepared mentally or physically to pursue – a trip that Parks Canada washed their hands of - "if you get in trouble we are not going to save you" – a trip that a much younger man without a broken limb would not attempt and yet it was a trip he had to take.
While wearing a 70-pound pack, carrying everything with him, searching for water and shelter while encountering bears, blisters, bison, wolves and the isolation of being very alone in the woods - all with no gun and no way of calling for help – not that anyone would come if he could call.  Intermingled with the stories of his life and family that had brought him to this point – that had brought him to the Yukon. He shares with us the fear, the adventure and the growth that he experienced hiking the trail alone in Wood Buffalo National Park, in moving his life and family to the Arctic & even in writing a Fringe Play…after all "trails are like stages, people and animals have their exits and entrances."
As I said the production is not flashy and the story is not unbelievable – but it is real, it is Kevin Kennedy's own story/quest in every way and you will be happy that he shared it with you.
By Jason Broadfoot