William vs. the World - Awkwardly Charming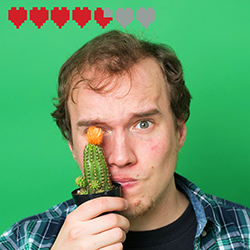 When your mentor is Yoda and your friends are Sam and Frodo, you need nothing more than the script in your head to live the life you want. Especially when you have the Wolverine three pronged plan and your cactus at your side.
William vs. the World is a stream of pop culture references mostly for boys of the 90s with song and real stories from the geek front lines interweaved throughout. We watch William recount the pain of childhood, construct a carefully planned sanctuary underground, and then navigate through the early stages of adulthood determined to protect himself from unnecessary human interaction and connection.
Although most of the references will hit home for young men, everyone can see a piece of themselves in William as he cocoons himself in his attempt to remain safe in the dangerous world of humanity.  Sit tight as William navigates through his minimum wage job where odd people buy vacuum-packed action figures they will never open. Everyone is trying to protect something. The stories, from a front line worker in a real geek shop, will leave you laughing and crying for the same reasons.
William is a beautifully emotional young man who narrates the hearts of many young men of his generation. Dealing with the fall out of not being the man his father thought he should be, not having an emotionally capable male role model, and dealing with society's stereotypes, William is left to either hide from or sift through his emotions for himself.
Will William be able to sustain the carefully constructed version of life he aspires to live? As with all carefully constructed realities, the truth starts to seep through the cracks. Even good friends seem to conspire against him. Will he further retreat underground with his cactus? The wish for the simple becomes complicated and William discovers even his cactus has sharp spines.
Andrew Wade has created an awkwardly charming character who even in his attempt to protect himself is incredibly honest and vulnerable with the audience. From the very beginning the audience is drawn to Andrew's ability to evoke emotion in us with soliloquy, stories and song. He steps in and out of different characters with ease, never losing his audience along the way.
Many will gawk, see glimpses of themselves, and cringe at the truth of it all.
By Melody Owen