Wild/Society - Two Wild Women on Society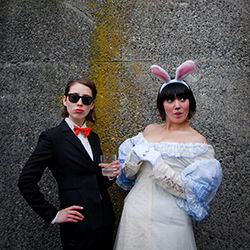 When rabbit comes hopping out in her bunny suit, one might suppose these two forest creatures are all cute and fluffy. They do seem so on the surface with the soft coats and noses twitching. Are these wild creatures or creatures of comfort looking for their square of land in the high priced land of luxury?
Mika Laulainen has written a clever mix of slapstick comedy and dark statements on environmental profit-mongering all wrapped up in cute fluffy animal costumes.
There are two pieces in this performance set at different speeds. Rabbit and Raccoon find themselves at odds over the price of real estate and fitting in.  Their hilarious scuffle goes from neatly cut cucumber sandwiches and tea to the dust bunnies we all might like to sweep under the rug. They start slowly but things escalate as the bulldozers close in and Rabbit is forced to face reality and flee.
The second part starts briskly as they strip down and things get black and white with two penguins on the down low hiding among the icebergs avoiding responsibility for their crimes. They confabulate on global warming and the economy as they justify their greed as fast as they can down vodka and snort cocaine. Things never slow down again and the audience is included in their victimization of fools thinking they should invest in the planet for the longevity of the human race.  Earth, after all, doesn't give back.
Their confessions surprise and entertain as you realize that these creatures aren't nearly as cute as you were lead to believe at the outset. Wild/Society has much to say and Mika Laulainen and Melissa Oei are a pair of talented women who work brilliantly together. By the end you will be drowning in laughter as they meet their fate.
By Melody Owen