Wicked Shorts: slap me if you're horny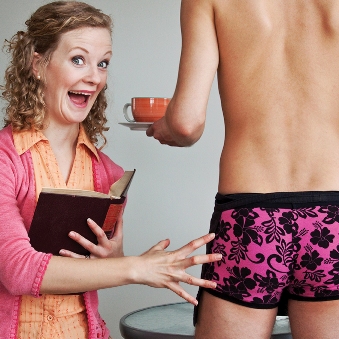 If you take your foreplay with a side of voyeurism and kink, you'll like the disquiet of Wicked Shorts and these four one-act plays that hinge on perversity, farce and that ultimate rite of passage—the first date.
Opening with "Matador Love" by Morwyn Brebner, we meet a librarian and hear about her bestial fantasies (about fucking horses, those long-dong beasts of the animal kingdom). She also orgasms at the touch of strangers. ("We're establishing a rapport here," breathes the man responsible.) Sheltered and shut-in, she's ultimately pent up; a crowded sidewalk is orgiastic and she pairs her conservative knitwear with fuck-me heels.
She's meeting a matador—the embodiment of full-blooded, animal virility, sure—who sought out a librarian in the White Pages because he's hot around the unbuttoned collar to spank a bookish wench amid the stacks.
She has a dream to fulfill. He a fantasy. Turns out they do it for each other. Blind-date verdict: sweat-soaked sheets.
Actors Guy Christie and Elizabeth Kirkland play the roles in all four shorts. In "Matador Love," Kirkland is flushed to perfection, her fair hair and skin wearing the librarian's characteristic horniness.
Staged at Wicked Café at the corner of Hemlock and Seventh, Wicked Shorts is ideally cramped and charismatic for Fringe. Floor-to-ceiling windows mean sidewalk gawkers could enjoy the action, which spills outside and spreads to the café's bathroom and barista machines.
Second on the bill is "Rendez-Vous" by Georgia Straight theatre writer Kathleen Oliver.  Hers was the most original of the four, and I say this regardless of the fact that I happened to sit down beside her.
First performed by Théatre la Seizième last fall, "Rendez-Vous" is adapted from a near wordless production with French subtitles. A narrator (Kirkland) voices a series of dates as an anonymous, nameless waiter (Christie) serves a string of patrons and plays the silent shrink, the long-suffering prophet to their all-too human and predictable foibles.
How will the night end? "Bon soir. Bonne chance," he tells all the guests. He's privy but not part of the intimacy of others.  He'll go home alone. His late-night verdict: solitary Internet porn or re-runs of Ghost Whisperer.
Next up is "You'll Probably Come Back," a tense drama that builds to a final too-familiar embrace and answers the unsettling doubt about the relationship between two lovers.
Written by Christopher Cook, the one-act frame is well-paced and effectively unnerving because of what's left unaddressed. Who's dead, who is Walter and how are they connected to the woman who's just arrived by bus from Texas and a man who's mopping the floors of a closed café?
"She" turns out to be the woman's mom. But is "she" also his mom? These two have three step-siblings. But are they siblings?
Christie is excellent as a downbeat loner.
A familiar embrace that becomes an intimate caress solves the riddle. The verdict for this reunion: A rejection to write home about.
Last up is "Monster in the Closet" by Seth Soulstein.  After the heavier themes of the previous two plays, this is a welcome sketch comedy about supernatural gore and impulse. Tim and Sue have been dating for years (maybe they're even engaged) but this meeting will either be their last or the first of the rest of their lives.
"Is there something you're not telling me?"
"Yes."
See, Tim's father is a Cyclopse and there's a one in four chance he will spawn—with her, if she chooses to stick around—a Cyclopse.
This happily domestic skit gets at who we want to have in our life. A nice guy who's killed 17 people? Well… he's a nice guy, right? First date verdict: adoption will lead to happily-ever-after.
Wicked Short is on as part of this year's Vancouver Fringe. For more information go here.
By Megan Stewart