Like A Virgin: Comedically Well-Endowed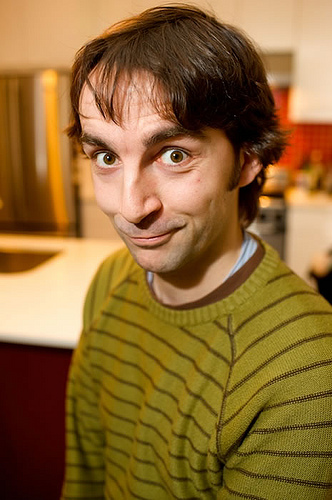 Even with a bum knee, Jimmy Hogg doesn't slow down.
The Brit's one-man show, which revolves around his journey from a young boy riding around on a BMX named after a short-lived TV series about a well-armed motorcycle to his first sexual adventure, is a fast-paced romp.  Hogg is a gifted performer, and his relationship with the audience at this performance demonstrated his love for simply talking to - and with - his audience.
There are occasions where he trips over his words - but at the frenetic pace his mouth is moving it would seem impossible for that not to happen.  He playfully went from plot to aside, not missing a beat and keeping the audience moving from the past to the present - and not losing anyone along the way.  He adds in a helping of pop culture to the piece, pokes fun at mime and even has a few costume changes that are just as fun for him as they are for the audience.  His facial expressions are strong, making up for anything we may have missed out on because of his injury.
Like A Virgin is a strong solo offering at the Fringe - it might just be the comedic climax of your Fringe experience this year.
For more information go here.
By Mike Vardy