The Vancouver Plank Panel go to Twelve Minutes Max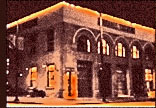 Your quick thinking Plank Panel:
*Ashleigh Dalton*: writer and community development worker who can teach you to tango in twelve minutes.
*Rachel Scott*: writer and theatre gal who can make and drink a martini in twelve minutes.
Who are reviewing *Twelve Minutes Max XXXVI*, Co-presented by "The Dance Centre":http://www.thedancecentre.ca/ and Firehall Arts Centre
*Ashleigh:* The only thing you can be certain about in *12 Minutes Max*, an annual dance performance program, is that each piece will be kept to a twelve minute limit. The 36th edition, curated by Tanya Marquardt and Joyce Rosario, featured six short works by dance and interdisciplinary performers.
*Rachel:* Before this evening, I had no idea that a dance presentation like this was curated. I didn't realize that these six pieces had been selected so specifically.
*Ashleigh:* I really appreciated that the curators came out and talked to the audience about the format, the purpose and why the pieces we were about to see were chosen to be included. Marquardt described the show as "performance dramaturgy" and put emphasis on the role of the structure in facilitating experimentation. 12 Minutes Max was designed as an outlet for emerging and established performers to take risks and test out new material and ranges.
*Rachel:* I loved that they were encouraging artists to explore new frontiers. For some, this risk manifested in unexpected ways. The first piece, _Farewell Laminaria_ by Julia Carr was a surprisingly quiet. I felt as if Carr's intention was to explore her emotional connection to a work, rather than work on technical proficiency. It was lovely and subtle. Whereas a work like _Hairy Lumps: an Interdimensional Allegory_ was crazy, kinetic and wild.
*Ashleigh:* There were elements of risk in all of the performances, and some of those risks worked, others didn't. _Moment_, created by Patricia Kim, took the form of a dance film and was the only piece that wasn't performed live. Beautiful camera work and compelling choreography contributed to create a narrative piece where the movements of the dancers pushed the story along.
*Rachel:* I loved all the pieces. I'm a complete sucker for process. I love to watch an artist connect to their work and explore new directions. I also loved the moments of quiet between each performance. There was time for the audience to quietly exchange our thoughts and reactions. I felt like we were part of the process; it became very communal. When the curators spoke about performance dramaturgy, they mentioned that the involvement of the audience was the next ingredient in the processes for many of these artists. This is undoubtedly true, although I think it's fair to say that most of the audience members were heartily supportive rather than objective. Did you have any favorite moments?
*Ashleigh:* For me, one of the most exciting pieces was Zeph Caissie's showcase of percussion and movement in _Elements_. Caissie demonstrated his mastery of rhythm and coordination as he executed his tap moves, incorporating Irish stepdancing, one-armed push-ups and the accompaniment of an on-stage percussionist into his work. The result was a short piece that felt chaotic and disjointed in all its elements, but can be chalked up to a work-in-progress from a talented and creative performer.
*Rachel:* It was very Bring in 'da Noise, Bring in 'da Funk, the Tony award-winning Broadway showstopper featuring the tap dancing of Savion Glover. Both shows used the body as a percussive instrument. It was kind of chaotic, but I didn't feel that it was disjointed. It'd be fun to see where else he takes it. I also really loved the work _PUSH_, where two sisters explore their relationship to resistance and come head to head with their "good natured habits." They created very brave and (I mean this in the best possible sense) unattractive moments. They dared not being correct or pretty. This is a key transformational moment for artists: when they stop pleasing others and start unearthing themselves. Of course, I heard one of the sisters say afterwards (I'm paraphrasing) that there are always things that could have been better. I would have loved her to say, "Yeah, I did my thing and it rocked!" No apologies. But they were great.
*Ashleigh:* I found that I wasn't reacting with the rest of the audience to _Hairy Lumps: an Interdimensional Allegory_. Using multiple dancers, string and sound, this piece spun a metaphor that seemed to be well received by those in the Firehall theatre. I, however, found it to be a very long twelve minutes. One of the questions I found myself facing was how to review a dance show, and an experimental one at that. What criteria does a "dance layman" use? I came to the conclusion that the only thing to do was review how the movement set the emotional tone for the action and events and how I reacted emotionally, if at all. The choreographed movements of _Hairy Lumps_ lacked authenticity, and there was no presence in performance. The result was action and event that contributed to a cohesive narrative, but lacking the stimulus for emotional response that would make me ponder message or meaning.
*Rachel:* I can understand why you'd feel that way, but I liked it. They reminded me of bouncing little ions all reacting chaotically and randomly with each other. I loved it when they all glued together and stuck their arms up. I felt like I was seeing the inside of an atom. So I felt the lack of emotionality as well, but I found it intriguing rather than off-putting. Did you have a favourite?
*Ashleigh:* I felt that the strongest performance of the night was _Idle_, performed by Justine A. Chambers and Sylvain Senez. This piece was an excerpt of Chambers' larger work, and I would happily pay to see a full-length show featuring this choreographer and performer. _Idle_, an intimate duet, saw connection and continuity between Chambers and Senez, even in their exploration of idleness. Movements were fresh and full and the thematic expression compelling. This seductive piece reflected more of a traditional dance performance rather than the experimental interdisciplinary work of some of the other artists and it did so beautifully.
*Rachel:* It was gorgeous and I will go with you to see the full-length version. The way that the two dancers shared their weight and moved with each other was riveting. This piece made me fall in love with contemporary dance and want to see more of Chamber's choreography. However, to be devil's advocate, I didn't really see what risk there was in re-mounting a work that had already been done in 2003. The artists aren't going somewhere that they haven't been before. For me, it wasn't raw enough to warrant a place in a night of boundary pushing. Breathtaking, oh yes. Risky? Maybe not. But all in all, a stunning evening of dance performance. Not stunning because it was perfect, but stunning because everyone was so present. The focus of the performers and the connection of the audience made me feel like I was part of this extraordinary artistic community. I felt like the audience was there to support this evolving artistic process, rather than to judge whether or not something was "good." And what a joy to see process valued over perfection. My eyes have been opened up to the joys of dance performance.
And I will definitely come back for the 37th.
_Twelve Minutes Max; XXXVI; Co-presented by The Dance Centre and Firehall Arts Centre Curated by Tanya Marquardt and Joyce Rosario; Creators: Dance Troupe Practice, The Cycling Club, Christie Watson, Julia Carr, Zeph Caissie, Patricia Kim, Jennifer McLeish-Lewis, Dawn Zoe, Justine A. Chambers, Rob Kitsos; Performers: Jeanette Ageson, Ross Birdwise, Vanessa Brown, April Martin, Zoe St. Aubin, Prophesy Sun, Julia Carr, Zeph Caissie, Justine A Chambers, Sylvian Senez, Meghan Goodman, Venessa Goodman, Celeste Lyon and Joseph Jurd; December 8 & 9, 2008_
By Ashleigh Dalton and Rachel Scott