Trump: The Musical – Makes You Smile Once Again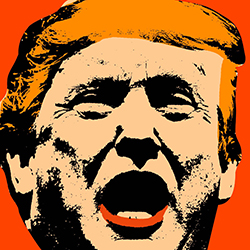 This show was sold out within a few days of opening at the Fringe. If you were lucky like me to get to see the performance you most likely enjoyed it. However I am attributing the success of the sales mainly to the character in the center – D. Trump. I mean he is already funny so it is no brainer to make a comedy out of it.
The show runs in a musical format with many great song parodies and I found the singing to be quite good. The story line takes many turns into Star Wars with characters twisted to reflect political debates.
I am sure that the show would be much funnier if English is your first language and if you grew up on Star Wars. Neither can be said about me so I found myself not as amused as other people in the room.
The performance of Jacques Lalonde should be mentioned separately. His impersonation of D. Trump is truly amazing and extremely funny! A true enjoyment to see this play. Lalonde will entertain you before and after the show as well and guaranteed you will not leave without a smile.
By Elena Krasnova