Trudeautopia: an ambitious embryo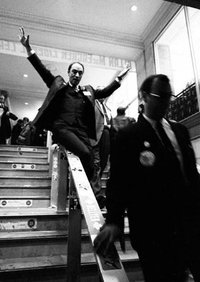 Despite the title, this play only skirts around Trudeau the man, featuring him in collage like tidbits, and instead focuses on the often sordid behind-the-scenes machinations of the FLQ crisis.
This narrative spotlight in Trudeautopia, currently on at the Toronto Fringe and presented by Banquo's Banquet, is widened by a parallel story about a Canadian playwright whose all too modern-day script rattles a local theatre company's sensibilities which in turn challenges the playwright's sense of purpose.
This heady 60 minute work from talented writer/director, Glyn Bowerman suffers somewhat from the sheer density of the material and the vast thematic ground covered, but it is not difficult to see within the embryo of a full length and nuanced play about the cross over of politics and art. Bowerman's ambitious efforts are well supported by a compelling performance from Allan Michael Brunet as the conflicted playwright and a seething French-Canadian father. Liam Morris also impresses in his turn as a mousy and pragmatic FLQ organizer.
Trudeautopia, part of this year's Toronto Fringe Festival, continues until July 10th. For more information go here.
By Justin Haigh