TransCanada69: guitar philosopher wears hush puppies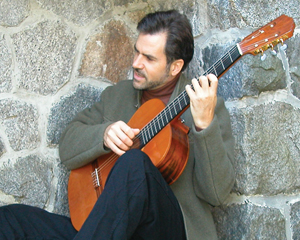 Vancouver: What a premise, I thought. If I ever ride the rails from coast to coast, what more could I ask for than a Canadian soundtrack performed live by a guitar virtuoso? Not much but the artists themselves and the time-travelling ability to catch the train in 1969.
Imagine the landscape, the motion, the romance, the melodies: A slinky Oscar Peterson though the dilettante decay of Montreal; Leonard Cohen, aged yet virile, as the St. Lawrence slips behind us like a lover, a visit to Neil Young's town in north Ontario; a frosted window pane and Glenn Gould's tribute to the tundra; Joni Mitchell wherever her garden lingers…
Then my next thought: Fawk, this is going to be hokey. I'm bringing Mom.
Mom loved it. And we agree that Colin Godbout's talent is undeniable. He's also entertaining and totally hokey, which is OK by me because a guitar philosopher who paraphrases Aldous Huxley and wears hush puppies is a precious and bewildering thing, like a butterfly in the snow.
I wasn't enamoured with this TransCanCon, which surprised me since my iPod rivals the vaults at the CBC. Rather, I wanted more history, storytelling and anecdote — enough Canadiana to fill my imagination and fill in the narrative blanks as we rolled east to west, not just tap our collective record collection. Recordings of songbirds, rushing water, footsteps were failed attempts at ambiance; Godbout's voice and melody were all I needed. And maybe a few more details, like knowing Peterson's father was a porter with Canadian Pacific and that Gould travelled north on the Muskeg Express.
Godbout played vignettes of songs I knew and others I didn't and also tossed in refrains from Ian and Sylvia, BTO and even Clapton. But my favourite track by far was actually his own original music. In one tribute to Lenny Breau, a guitar legend whose ghastly murder remains unsolved, Godbout's intricate, inspired playing ascended into a frantic death knell until the melody finally relaxed. Mom hated it.
His finger strokes and hand slaps reminded me of rough love, like getting busy with a sexy piece of flesh. This is certainly not the first comparison to an artist caressing his instrument like a woman's body, but the cliché fits. Otherwise, the show was chill, offering a passage through Godbout's personal door of perception.
While the production didn't entirely meet my expectations, when I do jump that train, I'll want Godbout and his guitar along for the trip. 
For showtime information ride the rails here.
If you want to agree or disagree with Megan or her mom go at it below.
 
By Megan Stewart