TJ'S Kitchen: Tracks – Brilliant Storytelling, but Hard to Keep Track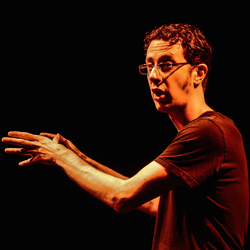 Going to see TJ Dawe's first show at this year's Fringe Festival, I had high expectations. He's been Fringing almost as long as I've been alive and even though I've never seen any of his shows before, his name is one I long associated with the Fringe. Additionally, one of my favourite movies to come out in 2013, The F Word, was based on one of Dawe's plays (one which you still have a chance to see on the 17th – Toothpaste and Cigarettes) so I knew Tracks had to be good. And it was, for the most part.
To my surprise, upon taking my seat I looked up to discover a tablet on a stand in the center of the stage. Looking at the program I realized this was to be a reading. I need not have worried; Dawe's reading was exceptionally emphatic and engaging. Dressed as he was, all in black, his body melted into the black walls and curtains behind him at the small Commercial Drive venue, the Havana Theatre. Whether by accident or by design, this attire accentuated his face and hands whose gestures and expressions warrant recognition for their supporting roles. But it was Dawe's voice that was the star of the show.
Dawe is an expert storyteller with impeccable timing. He certainly knows how to deliver a line – in fact, 70 minutes worth of lines. Unfortunately, despite the craft of Dawe's storytelling, I wasn't able to navigate the narrative weavings of Tracks as well as I would have liked. This play is Dawe's only non-autobiographical solo show, however it is based on someone else's autobiographical memoir – Jack London's The Road. Reduced from a 200+ page book to a 70 minute reading, Dawe's adaptation is still rather long, featuring too much action for the time allotment. And as this action takes place in the 1890s and features rather specific train terminology, I found myself frequently derailed and unable to keep up with events until Dawe's first person narration slowed down during a lull in the action or the protagonist London's brief dialogues with other characters.
If you've got a fast-paced imagination receptive to auditory cues, you may have been better equipped than I was to keep up with London's numerous train-hopping experiences. Alternatively, if you are interested in historic narratives and the detailed dynamics of train-hopping, Tracks would have been the show to see. But alas, TJ's Kitchen is different every night, as Dawe has prepared a repertoire of his plays for the Fringe this year. But what with his storytelling skills and years of theatrical experience, there's no doubt each production will be exceptional.
By Sonja Cvoric