Boat Load - a pleasure cruise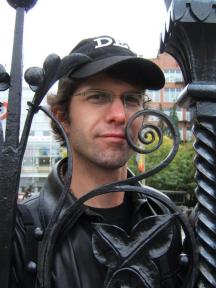 Jayson McDonald wowed audiences at last year's Fringe with his hit Giant Invisible Robot. By the time I decided to go see it, the shows were sold out. This year, I made sure Boat Load was one of the first I checked out. I made a wise choice because he has another hit on his hands.
As a cat person myself, I was drawn to the plight of protagonist Gary, the struggling local actor with a very sick feline on his hands. And he's broke. Through a series of scenes involving the people in Gary's life (including a slacker friend, a gin-guzzling veterinarian and an imaginary captain who summonsed memories of Charlie Farquharson), we learn that he faces life and death choices - of the cat and career variety. The show plays out like a finely-tuned symphony. McDonald has a great command of the craft of solo performance and he plays to the crowd exceptionally well. He is able to smash down and rebuild "the fourth wall" in a seemingly effortless manner, and the crowd ate it up.
Each of the characters in Boat Load is clearly defined and every time he introduces one through another, you eagerly want to see how that new one will be portrayed. The trick with this kind of character-shifting is that the audience really has to be paying attention to follow it and McDonald has the skill and charisma to keep all eyes on him. The physicality in each of the characters is phenomenal, and I swear I haven't seen anyone play a cat better.
And I've seen CATS.
McDonald owns the stage when he is up there - thanks in part to fine direction by Jeff Cuthbert - and you can actually see each setting he creates as he moves from scene to scene. This is a bare bones performance piece that relies on the talents of the performer, and it is a treat to watch.
This is a show that shouldn't be missed. Boat Load is a boat load of fun.
Boat Load; produced by Stars and Hearts; written and performed by Jayson McDonald (London, ON); Part of the 2008 Victoria Fringe Festival. Remaining shows at Venue 7:Sat 23, 6:00 • Sun 24, 6:45 • Tue 26, 8:45 • Thu 28, 7:00 • Fri 29, 6:30. For more information sail here.
By Mike Vardy