Fridays with Frieda - we tell you the whole story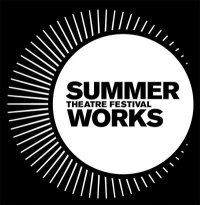 Frieda has Alzheimer's or some similar memory-impairment – her nephew, Matthew, is a drug-addicted beggar who is probably homeless – they meet every Friday in a park, or they're supposed to but Matthew has stopped showing up or maybe never showed up (it's not quite clear) – he makes these arrangements by phone –
now, some clean-cut guy named Frank, who's in acquisitions in some tall tower (don't you love it when playwrights talk business?) has his lunch on the same bench where Frieda uselessly waits for Matthew – Frank takes a shine to Frieda, visits with her at the bench a number of times and for slightly unbelievable reasons starts to pretend to be Matthew – with a little coaxing, Frieda, seems to accept this lie – meanwhile, the real Matthew observes the blossoming friendship between his Aunt Frieda and Frank (who, remember, is pretending to be Matthew) – one day Frieda doesn't show up and it turns out that the real Matthew stopped the visit by not phoning his aunt (she needs to be reminded to show up) and threatens Frank with blackmail – you see Frank, who appears straighter than Rory from Crush goes into the park, late at night to give blowjobs to strangers – Matthew's demands are that Frank continue to pretend to be him (not that Frank needs much coaxing on that front) – it's not clear what Matthew's motives are in blackmailing Frank but perhaps it's because he (the real Matthew) is due an inheritance from Frieda – oh, and Frieda is suffering from kidney disease and Matthew (the real one) is the only available match who can act as a donor – but he's on drugs and doesn't think his polluted kidney is good enough for his aunt – the men start get into a physical altercation which Frieda witnesses – Mathew (the fake one) introduces Mathew (the real one) as his new boyfriend – forgot to mention that Mathew (the real one) is also gay and his aunt accepts this unconditionally –Frieda sends Frank (who she thinks is Matthew) to get some food (food is a big theme in this play) – leaving behind the real Mathew (who, remember, Frieda thinks is Frank) and although not mentally alert enough to recognize her own nephew (or maybe she does) she is still capable enough to tell him that his mother (his real mother), from whom he's estranged is demanding that Mathew be taken off Frieda's will – and Frieda will do this (if she remembers, I suppose) unless the "Matthew she loves" shows up at her apartment tomorrow or something.
Sometimes, there's such a thing as too much plot.
Once people were sure the play was indeed over, a few members of the audience jumped to their feet, I assume for the performances by Peggy Mahon (Frieda), Caden Douglas (Frank) and Ryan Blakely (Matthew). Douglas and Blakely do particularly strong work, providing a nice counter-balance between the clean cut guy in acquisitions and the (rather clean-looking) homeless guy. Douglas deserves special mention for having to eat through the entire show.
There were a lot of older people in the audience at the performance I attended. They no doubt came expecting – as I did – a delicate two-hander about memory loss and connection between strangers (as the Festival guide led us to believe Fridays with Frieda was). There were a few gasps when the words "fuck", "cock" and "suck" were used. I can only imagine what they made of the storyline.
Fridays with Frieda by Christian Lloyd; Directed by John Gordon; Presented by Shuter Street Productions; Featuring Ryan Blakely, Caden Douglas, Peggy Mahon. Part of the 2008 SummerWorks Festival, there are no remaining performances but you can go here to find out more.
By Andrew Templeton