Thank You My Love, Goodbye: sweetly tender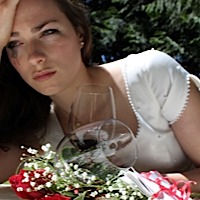 A Scottish farm couple near Saskatoon share a wee nip of the finest - like a fury worm wrapping around your heart - while planning a roast pork dinner for their daughter's sweetheart. An owl calls from the barn, sounding obviously human.
       "Don't touch me there, Robbie," says Mary.
       "Why not?"
       "I like it too much."
In Thank You My Love, Goodbye currently on at the Victoria Fringe, it's the beginning of World War II, and Robbie is off with his Canadian brothers to fight the Huns one more time. Over the course of the next several years, Mary receives five letters from her sweetheart. The fifth is delivered by a 14-year old boy on a bicycle with a bell that local folks call "the bells of Hell."
Mary collapses, and here the play comes to an ending.
But it goes on.
She becomes a teacher, moves to Victoria and never marries. Decades later, she retires and travels to Holland to visit the Canadian memorial for dead soldiers. She collapses and cries in the arms of a stranger. His name is Will, and he's from Saskatoon who's come to Holland to visit the grave of his dead brother. Later, they have tea in a nearby café. They read the tea leaves in a tea cup. Go on a picnic. Spend a night together making love.
       "Don't touch me there."
       "Why not?"
       "I like it too much."
Billed a romantic memory play, Thank You My Love, Goodbye is sweetly tender and takes its sweet time to tell a story told again and again in and out of time immemorial. The cast, including veterans of the boards Gina McIntosh and John Krich, are outstanding. But there's too much story here in the writing, too many details, and one or two unnecessary characters. The script needs work, much tightening up, many cuts to be made. And yet there's a large human solace here and a community that includes us all when the tears upon a mask of playing are so real.
Thank You My Love, Goodbye written and directed by Jim Leard. Produced by Creative Alliance. Runs August 29 and 31, September 1, 4 and 5, at Metro Studio, 1411 Quadra at Johnson. Check the Fringe program for times. PG14. Adult themes. For more info head here.
By Charles Tidler