TAPE: The True Meaning of Bring Your Own Venue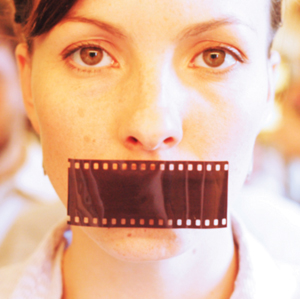 When I first opened my Fringe guide a few weeks ago, I circled TAPE as THE show I needed to see. Written by Stephen Belber, it's a play set in real time inside a hotel room, and it's being presented as a BYOV in a room at the Waldorf on East Hastings.
Nothing gets me more excited about theatre than ambitious site-specific work like this. It makes me almost forget all of the budget cuts and bullshit that the Gordon Campbell government has rained down on all artists here in BC. If there are no theatres left in BC, the next best solution is just to do it anywhere and everywhere! I'm also very curious about all those seedy downtown hotels, so I couldn't wait to go inside the Waldorf and check it out.
TAPE is a psychological drama, written in 2001. Richard Linklater adapted it into a movie starring Ethan Hawke, Robert Sean Leonard, and Uma Thurman. Three old high school friends reunite in a hotel room to rehash old memories and demons. The play works brilliantly in the cramped space of the Waldorf room. It's your standard hotel room with one single bed, dresser, and TV. I saw the 2pm show on Sunday, and being a bright sunny day, it was Mother Nature that was lighting designer for the show. The view of the beautiful North Shore Mountains was obscured by those massive red cranes (which my friends dub the Dinosaurs) along the railroad tracks; needless to say, you couldn't have created better art décor.
The biggest challenge in putting on a play in a single hotel room is, of course, the staging. Cram in 18 seats for the audience and you're left with not much room to play with, not even considering the blocking challenges it poses for sightlines. Amiel Gladstone, who's got experience with site specific work, does a masterful job directing the cast into a realistic staging. Very rarely did I notice deliberate blocking staged by the actors; it was all effortless and, being in such a tight space, having a lampshade completely cover an actor's face, or even have an actor behind you in the hallway made no difference to the enjoyment of the piece.
The cast (comprised of Daniel Arnold, Marisa Smith, and Matthew Konawalchuk) are vibrant and literally in your face. Gladstone directs them with naturalistic acting, and being in a tight space, the actors are able to speak in hushed tones, like most of us speak, which makes for realistic dialogue. It really did feel like we were ghosts of the Waldorf peeking in on the tenants of the room.
This show is a true Fringe experience, and is a must see. I don't throw those words around very often but it's easily is one of the best productions I've seen at the Fringe or elsewhere this entire year, and I've seen a lot of good stuff. It would be a travesty for this not to be a Pick of the Fringe, or at least extend the run, because with such limited seating people need more time to see this "A+" production.
 
For showtime information check in here.
Have you seen the show? Have you been in a hotel room with Mike Unger? Tell us all below.
By Michael J Unger