Suburban Motel: Featuring Loretta - Porn Is A Lifesaver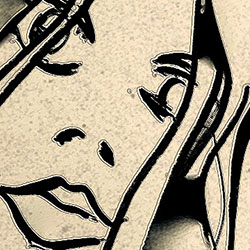 Suburban Motel: Featuring Loretta is an uproarious, racy number with a dark edge. Written by adored and admired George F. Walker in 1997, the ingenuity of Featuring Loretta has been reawakened for Vancouver's annual Fringe Festival. Featuring Loretta stars a young, not so innocent, girl who runs away from her problems in an attempt to gain control of them. She no longer wants other people to make decisions for her. No one can stop her from doing what she wants, even if what she wants is to make porn.
"I'm not happy…but maybe I could be," determined, unfettered Loretta, played by Britney Miller, seems set on making her own happiness, or at least some money. Featuring Loretta is composed of sex, pornography, concession, grief, death and selflessness. It implores you to question your treatment of others and vice versa. As you interact with people, what do you want from them? Can you tell what do they want from you? What are you willing to sacrifice to get what you want? What are you willing to sacrifice for the sake of others? And ultimately, are you being honest with yourself?
The cast and script manage to win you over until you are deeply invested in each of the characters. Sweet yet provocative, stubborn yet vulnerable Miller's Loretta shines, yet I find her supporting characters shine brighter. Dave, played by Patrick Dodd, entertains as an earnest romantic who grows more and more desperate for Loretta's affection, resulting in absurdly silly scenes. Michael, played by Christiaan Westerveld, begins as a sleazy, money-hungry, easily aroused "talent agent" and, though these characteristics don't change, you will, without a doubt, soften your heart towards him. Westerveld's portrayal of Michael garners merited howls of endless laughter, one scene in particular now a favourite of mine at Fringe Fest so far. Nadia Blanchfield expertly delivers her character, Sophie's, snappy banter as well. Blanchfield invokes immediate endearment yet also cracks the audience up with her quick-witted quips. The actors reanimate these unique characters, all flawed yet so fascinating, each of them.
The pacing and length (90 minutes) feels comfortable, though the ending seems swift and pithy. I found I yearned for each storyline to tie together neatly in a bow, each question to be answered, but was left disappointed. You'll fall in love with the banter, drink in the drama, and when it's over, crave more. Thankfully, Featuring Loretta is so intriguing, it will unquestionably satiate your craving for dark comedy through kidnappings, fist fights, an amateur video camera, and lingerie.
Laugh along with the crowd as Dave and Michael squabble over Loretta's heart, and other body parts. Who will Loretta choose? Find out at Suburban Motel: Featuring Loretta's next show!
By Jenna Mae Diamante