The Strange Adventure of Myself: analyzing meaning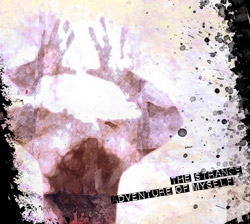 A stark stage with muted lighting flooding the space in every direction, a man stands muscular, powerful. Motionless on stage left, he commences by moving his arms in an angular fashion, as if starting the engine of his being. He seems unsure when to begin. Is it fear holding him back?
I continued to ask similar questions throughout The Strange Adventure of Myself, choreographed by Serge Bennanthan and performed by Sylvain Senez, presnted by Les Productions Figlio.
"This piece became a study about dance, the memory of dance, about a life in dance and the dance of life, a piece about the effect on the present of all past generations of dancers throughout the world" is how the choreographer presented it in his program notes.  I was curious to experience the deep inner sanctuary of a dancer, all dancers. An overall feeling of angst, contradictory impressions seemed to interweave the movements and sitting there, immersed in this one man presentation, struggle, unhappiness and confusion veiled me. Is there no love for dance?  Is the discovery of love also a struggle?
The music, languid, pulled me into a trance with its melodic deep piano sounds and industrial tones. My mind wandered to scenes from the David Lynch`s movie Eraserhead; a story from a bizarre dream-like consciousness. Intermixing piano interludes with well choreographed synthesized music, I felt a story in the music, a desire for discovery, at the same time a rejection of what life has to offer, always reverting back to the safety of the known. I fluttered my eyes in drowsiness numerous times and since the movement was also slow for a majority of the piece, it seemed lengthy. Being emotionally stirred was something I strived to find in this piece, instead I found myself analyzing the meaning of the movements, the contradictions in the pushing and pulling of the body.
This is literally The Strange Adventure of Myself which can only be a very personal account of internal struggles. I sense that he is not free, he does not allow himself internal freedom, yet as a dancer he is expressing this disorientation to us – a journey that opens his heart and soul to the audience. It is pure uninhibited exposure for all to see; a freedom many of us will never attain.
The Strange Adventure of Myself, presented by Les Productions Figlio and the Firehall Arts Centre as part of Dance in Vancouver, continues until October 17 at the Firehall Arts Centre. For more information go here.
By Lianna Walden