A Story of O's - Bravely Intimate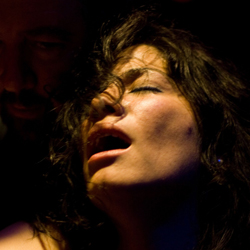 Tonya Jone Miller is an award-winning performer from Portland, Oregon who tells the story based on her decade of experience as a professional phone sex operator. This show was awarded the Outstanding Individual Performance award at the 2015 London Fringe Festival.
Tonya is unique and talented monologist. She explores not only the needs, desires, and intentions of the individuals on the other end of the phone line, but also humanity, her own bodily anxieties, and acceptance of herself and others. She lays bare not only her body but her soul.
Tonya brings a different perspective on phone sex, emphasizing that "it is not about sex, it is about the phone, it is about communication." Through the show, Tonya takes audience to the journey of the diverse conversations starting from extreme fetish crazy scenes and gradually moving to amazingly touching intimate stories. From enemas, animals, and threesomes, we are witness to the play-by-plays of some of her craziest days on the phone. No matter how wild the fetish or request, she is sex-positive and non-judgemental. Instead of ridiculing her clients, she is actually humanizing them. She sounds so realistic that the audience seems to "hear" the other side.
The Story Of O's is a reality-based, partially-improvised, interactive solo show. It is kinky, hilarious, and unexpectedly touching. It is intimate and explicit and can be uncomfortable for some people.
It is a story about the diversity of human sexuality, the erotic absurdity and perversion of the human mind, and most importantly about our basic needs such as our need for acceptance, to feel and to love and be loved. It is the story about finding out who we are and accept it. "My callers don't pay me for sex, they pay me for acceptance,"  Tonya says.
If you are curious about what is really like to talk "dirty" for a living and considering pursuing a career in the phone sex field—or perhaps just learning how to be a little naughty—then you should definitely watch this show.
By Natalia Krioutchkova