Stephen Harper The Musical!: more entertaining than the real thing!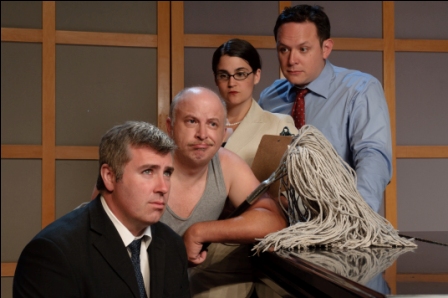 What if the stodgy prime minister's strategists built a whole campaign on their most random PR stunts? The idea doesn't seem that far-fetched, since Harper started hobnobbing with Bryan Adams and Taylor Swift. It all started about nine months ago, when Harper played "A Little Help From My Friends" at the National Arts Centre. People loved it, and it seems his publicists caught on. So did the Shehori brothers.
Daniel and Steven Shehori wrote and directed this cheeky satire with music by Jay McCarrol. It's unpatriotic, irreverent, even offensive. It's hilarious. The music is simple but catchy, and the four-person cast couldn't be funnier or more energetic. With Christ references and racial slurs a plenty, Stephen Harper The Musical! is a well-aimed spoof on the ridiculous politics that make Canada . . . what it is.
Ashley Botting is hilarious as the calculating PR strategist and the over-eager New Jersey actor. The commitment she shows in both parts would be pathetic in real life, but it's perfect on stage! Bonus: she hits her pitches, too. James Roussel plays Harper and the actor who plays Harper with such deadpan delivery, he almost manages to make both of them sympathetic. Luckily, they're too absurd for that, so the audience keeps laughing. Bonus #2: He's actually a good singer.
This world premiere will kick off years of tours for Stephen Harper The Musical! Maybe it'll be around long enough for Harper to star in it himself!
Stephen Harper The Musical! by The Shehori Brothers is on at The Second City in Toronto until July 25, 2010. For more information spin yourself here.
By Roselyn Kelada-Sedra