Sonic Genome: Definitely an Audio Experience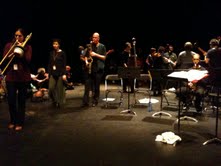 I arrive just before 7 pm - for a show that started at 12 noon and will wrap up about 8 pm.  The sound begins to envelope you as you enter the space. I then notice about 30 people lying on the floor listening.  Some are motionless.  Others are chanting or pounding the floor with various limbs.  I sit down in the front row of chairs - I think there are more people onstage in the action than with me in the stands.
After several minutes of sounds and audience members wandering in and out, a small band starts to form.  A conductor enters and they follow his lead.  Then I notice another small group forming on the other side of the room.  Audience on the floor begin to sit up cross-legged rather than full out on the floor. Then I notice that the audience around me has tripled - nearly all the seats are full and others are standing behind the floor audience.
There are lots of audience members wielding cameras - taking photos or video.  People keep wandering in - it's almost 7:30 now.  The music becomes more organized and more melodic.  Yet it continues to flow as the musicians break into smaller cells and continue to play.   The audience gets smaller again, almost as if the music brought the people and now it's letting them go.  I recognize some local improvisors in the crowd of musicians - Brad Muirhead on trombone, Coat Cooke on sax, Francois Houle on clarinet, J.P. Carter on trumpet, Kenton Loewen on drums and Viviane Houle on vocals.  I see someone I think is Anthony Braxton - the guy who created this experimental interactive musical environment.  He looks pretty pleased with it all.
I think this experience is somewhat indescribable.  You need to be there - to listen however you choose... to relax and let the sound wash over you.   For your listening pleasure, I've recorded a few samples.  Check them out!
 
By Allyson McGrane