Someone Who'll Watch Over Me: Good job, but no new ground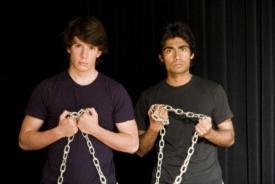 Victoria: Ella Fitzgerald's voice crackles the title song through the speakers, and immediately we are warm and think of home. But home is far from where we are taken. We are imprisoned, in Lebanon, perhaps underground, perhaps forgotten.
This is the first tick of the metronome that perpetuates throughout Frank McGuinness' Someone Who'll Watch Over Me. Director Darcy Stoop and well-cast actors Alex Plouffe, Liam Volke and Shaan Rahman (all University of Victoria theatre students) pull together a clean performance in this account of the psychological survival of three men who have no clue about anything beyond their cell . . . including their futures. Their grips on sanity sway dramatically as they verbalize letters to loved ones, re-enact sports highlights and sing songs (rather beautifully) between emotional breakdowns.
At the core of the story is the notion that sometimes all you can do is laugh, and the strongest aspect of the script is, in fact, the humour. Whether the desired effect was really to have the audience chuckle far more than sniffle is hard to say, but the opening night show was at its best when it was funny--and at its most moving when it was silent, which didn't occur often (or for very long). Though the dramatic dialogue was at times remarkably delivered, it was often the clang of their physical chains onstage that conveyed the weight of the grim situation.
The perhaps-overly-circular nature of the plot, along with a sparse set and close to 100-minute runtime, effectively gives the audience a sense of endless, monotonous imprisonment--but don't worry. Just before you start to feel too shackled it's over, and you're released . . . unfortunately without much new insight.
While Someone Who'll Watch Over Me doesn't break any new ground, it's a performance worth seeing by some promising local talent, not to mention that $1 from every ticket sale goes directly to Amnesty International. It's just good all around.
To learn more about Someone Who'll Watch Over Me go here.
By Robyn Cadamia