Some Reckless Abandon: touched by teenage jesus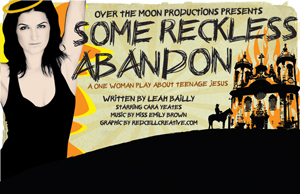 Teenage Jesus has swept Latin America and apparently he wants pretty young girls to come down to Honduras to help convert the heathens. This is the catalyst moment for Madeleine, the protagonist in Leah Bailey's Some Reckless Abandon.
Madeleine Cross (played by Cara Yeates) is an 18 year old from a small Prairie town in Alberta and is looking for any excuse to escape her life. (This is the second one-woman show that I saw in a row with the central theme of "escape." Could this be this year's Fringe Trend?)  She gets her wish when she is recruited to go to Latin America, with free plane ticket and room and board in a Catholic mission. She devises a plot to be met, rescued, and carried off into the Honduran sunset by her "Cowboy" boyfriend. All doesn't go as planned as Madeleine is quickly overwhelmed with not only culture shock of a new country but of a religion that is completely foreign to her. The Cowboy never shows up and Madeleine is left to learn to fend for herself against her religious hosts, preppy backstabbing peers, and horny Honduran men. It's a coming-of-age of story that comes to life nicely thanks to the talent that carries the play.
 
Cara Yeates is an engaging, refreshing actor who effortlessly shapes Leah Bailey's tight script and  creates a Madeleine distinctly her own. Veteran Lori Triolo gives the story a confident direction that, with simple staging, and help of some excellent sound design (Miss Emily Brown composed the music), takes us into the world of Latin America.
 
In her playwright's notes, Bailey mentions that she met and bonded with Cara at an ashram in India, thus forming a union for this story (which she says is completely fictional). While most of the play is touching and realistic, I can't help but be a bit put off by the ending: (Spoiler Alert!) Madeleine, at her wit's end after a series of misguided and unfortunate occurrences, decides to burn the mission down and run away to a beach. Really? It seems a bit drastic to turn your protagonist from an innocent Prairie girl to a Latin criminal. I mean, did her arson stunt kill anyone? Are we still supposed to like her, feel sorry for her after this?
 
It's really the only flaw in this very slick production. Bailey, Yeates, and Triolo are a triumphant creative trifecta, even though things do end on a bit of a downer. I guess it all depends on what you're into. I overheard an older couple lamenting afterward that they had seen a couple of plays so far and none of them were really funny. If you have read the Bible, though -- you know, that book that "Teenage Jesus" is in? - it ends on a bit of a downer too.
For showtime information escape to this page.
Did you see this show? Tell us your thoughts below.
By Michael J Unger