Slumming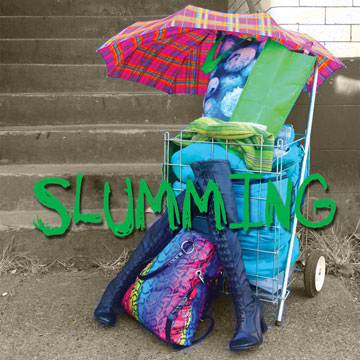 Slumming is one of the more dynamic, dramatic works in this year's Fringe. This is due in no small part to Sharon Crandall's portrayal of street worker Britney who laughs like thunder, crawls across the stage in bloody-thigh agony, and sings like an excommunicated goddess. Terri Anne Taylor's Grace juxtaposes her well as she cracks open the character's subdued chrysalis and emerges as a powerful woman of rage, passion, and vengeance.
The two provide a powerful contract of how strong people respond to the challenges of their lives: one takes action to change the dynamics of situations, while the other responds to difficult situations by unquestioningly working within their structures.
Slumming is a character drama of two street people -- Grace, a frumpy bag lady, and Britney, a vibrant street walker -- fighting over the territory of a particular alley in the Downtown East Side. Up for debate is the sacredness of space (to whom does a public place belong? and how do they lay claim to it?), the sacredness of objects (eg. Grace's sentimental collection of trinkets versus Britney's expensive but uncomfortable boots), and the qualities by which one is judged to be a legitimate "street person."
The two eventually work out an uneasy compromise, agreeing to share the space over "the magic word: please" and the vow to "see no evil, hear no evil."
Loud, laughing, enthusiastic Britney, clad in neon and fiery sparkles, bursts onstage singing an old folk song. She is trying to reinvent herself, to repair the past, to recover from previous lifestyle mistakes. Bundled, humble Grace shuffles and speaks softly, wrapped in the subdued colours of ashes and bruises. She is resolved, finished, holding onto only her dignity and her name. Despite her far more modest roots, Britney has something Grace has lost: hope.
Both actresses in this performance are well-chosen and remarkably talented. Crandall is unconstrained and comfortable with her body, shamelessly flashing panties and bra as she revels in Britney's luscious cavorting. Her subtleties of emotion -- trembling hands when upset, slow change of facial expression when the focus is on the other character -- are brilliant. Given the samples presented in this show, I would love to hear her perform a whole set of songs as a singer.
Taylor's role of Grace seems simple at first, but as the drama climbs and stakes rise into consideration of parental custody, financial assets, and the right to live (or die),  she effortlessly personifies Grace's calm strength in moments of crisis. And when she reveals Grace's true passion and drive, she is downright terrifying.
Slumming is a definite must-see for anyone who has been born -- or married -- into a position of unquestioning financial security. Its lessons are hardhitting, honest, and as real as bleeding hangnails. For everyone else, this show is passionate, honest, moving, real, and a gut-wrenching reminder of how close we all are to wearing Grace's (or Britney's) shoes.
By Susan Cormier