Shoe Horn Comedy:...if you want silly...you got it.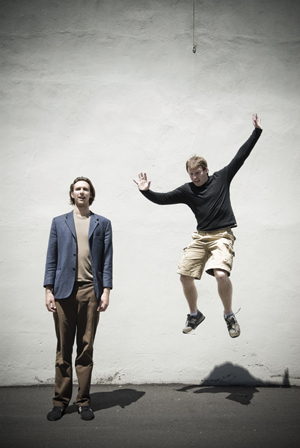 John Brenann and Chris Drake - the Charleston, SC duo that make up Shoe Horn Comedy - write in their sparse show description simply: "Fast paced, high energy sketch comedy."  Upon seeing their show I suppose that is the best and, indeed, the only description you could give what they do.
Right off the bat I thought they were shooting themselves in the foot with their self-promotion, because a little bit more description of who they are and where they come from could draw in better crowds than the skimpy description they gave. Even the website was confusing because it only described their previous Fringe show (The Banana Monologues), but I digress.
 
Shoe Horn Comedy is a sketch comedy show. I'm in a sketch comedy troupe here in Vancouver, so trust me when I say that the majority of people don't know what sketch is. The only reason I mention this is because, thanks to their sparse show description and the fact that a show of this nature has no "story," the theatre-going crowd's expectations can be dampened by what they see. Groups that simply describe their show as "sketch comedy" will tend to be very different from each other, especially at the Fringe. Even though the lads did a few standard callbacks and throughline jokes, it wasn't quite cohesive enough to satisfy my Fringe needs. I would have liked to see more of a theme come out of their sketches. If there is a reference to a Shoe Horn in their show, metaphoric or actual, I probably missed it.
 
John and Chris are a couple of young eager comedians that with their Mutt and Jeff style create a lot of  clever gags and good number of chuckles. When they fly onto the stage both doing crazy flailing dances to introduce themselves, you know you are supposed to check your pretentious theatre hats at the door and sit back for some silly comedy.
For showtime information shoe horn yourself in here.
Did you see these guys? Was it sketch? Tell us what you think.
By Michael J Unger